Last week the old man and I made our way down to Silverton for a few days at my favorite Colorado ski resort.  This trip has sort of become a father/son ritual over the past few years, and hopefully will remain so for many to come.  After Silverton we stopped by Telluride for a day and skied, sort of accidentally, an apparently somewhat notorious slackcountry run.  More on that later, but first, a few shots from Silverton…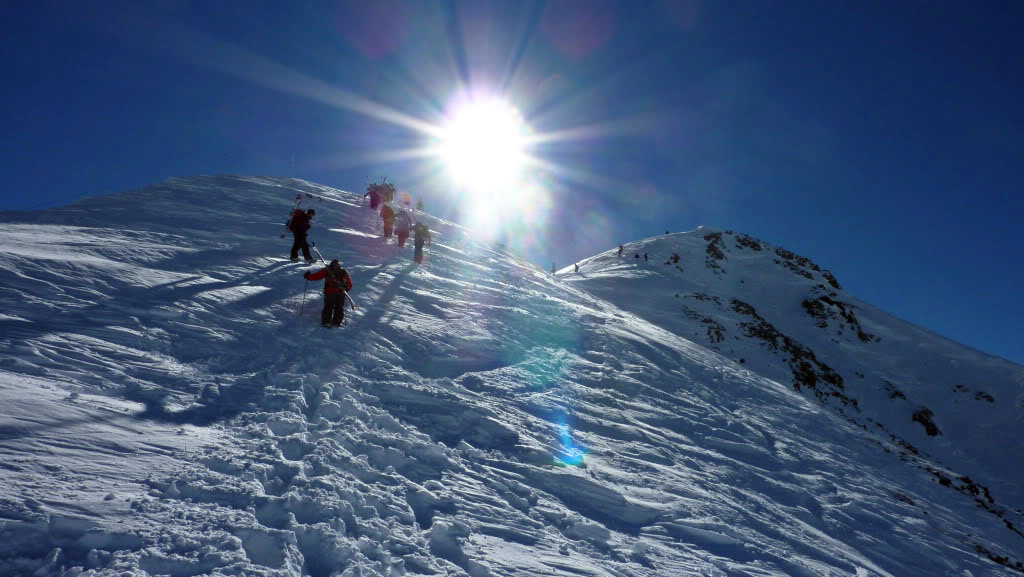 Here we enjoyed a few beers and some excellent appetizers, with good views of the Wilson Group to boot.
Now for the ski descent of Temptation.  On our way down from Gold Hill en route to the restaurant, we glanced skier's right down into Bear Creek and noticed a tantalizing powder stash marked up by a few sets of day-old tracks.  Even further down, we skied past the Tempter House and glanced down a stunning chute that appeared to cut all the way to the valley floor several thousand feet below. Knowing full well of Telluride's reputation for excellent slack/sidecountry terrain, my Dad and I were intrigued.
After a few beers at Guiseppe's, we asked our waiter if we knew anything of the runs heading down into Bear Creek.  He informed us that he had indeed skied down into Bear Creek a few days earlier (the run that we would later find out was in fact Temptation Bowl/Chute).  Aha!  Happy chance has us stumbling across the owner of the tracks we saw not 30 minutes earlier!  This must be fate.  After a somewhat lengthy discussion about the route, we decided to head on down to the car to grab our avalanche gear.  We were gonna give it a go.  Up the Gold Hill Express and down the ridge line, we headed right and dropped into Temptation Bowl. Hopefully our waiter knows what he's talking about!
My Dad's performance in the steeps and fervor for committing terrain at his age continues to impress me.  We skied several hundred feet of superb powder before coming to the edge of a rather large cliff.  The waiter had not mentioned this…interesting.  Looking for a way down, we remembered the chute we glanced down earlier in the day that appeared to cut a straight line to the valley floor.  A short traverse skier's left and sure enough, there was the chute, as well as a viable route through the cliff bands.  We ended up entering the chute a little lower than preferred, so the skis actually came off for a short downclimb into the chute proper (had we entered higher this would not have been necessary).  I was a tad concerned about my Dad as we were basically full on scrambling in ski boots at this point, but he made it look easy and in no time we had our skis back on and were ready to take on the chute.
From the valley floor we had a mile or so of skiing along the snowshoe trail before we popped out at the mouth of the valley and the Bear Creek TH.  Once at the bus stop we cracked open a beer I had stashed in my pack earlier in the trip.  I'd say it was well-earned.  Nice job Dad!
All in all I would not recommend skiing out of bounds in January in Telluride without first hand experience of the route you're going after, so I can understand if our little adventure is viewed as irresponsible.  That said, it worked out on this day and I got to share something unique and challenging with my Dad, an experience I will never forget, blog post or not.
Thanks for reading!