Peak:  Mount Yale, Sawatch Range
Date Climbed: April 11, 2009
Partners: Caroline Moore, Carl Dowdy, Lance
Route: Ascent of West Slopes from Denny Creek, summit ski descent via Silver Creek Bowl, traverse to north shoulder, descent of west slopes.
Stats: 4,300′ hiked, 4,100′ vertical skied, 8.2 miles RT, 10 hours
I met up with Carl at the Park and Ride off 285 and 470 at 4:00am on Saturday morning.  We drove to the Denny Creek TH where Lance and Caroline had car camped for the night, we all shook hands and were on the trail by 6:30.  Continuous snow started about 200 yards from the parking lot, the trail was well packed by previous feet so we chose to boot it for awhile.  It was refreshing to get out with new partners, this would be my first day out with any of them.
We hit a clearing at 11,100′ and opted for skins as the snow was getting deeper and harder to manage in ski boots, not long after we were skinning up 35 degree slopes through stumps, deadfall, and talus.  The weather report was sitting at an 80% chance of snow, but low winds and small accumulation had us hopeful.
It didn't take long for us to throw the skis back on the packs as it was clear we were doing too much work with them on our feet.  I opted to ascend a grass slope while others in the group stuck to snow.
Now well above treeline, the wind picked up and the weather seemed to deteriorate.  Temporary views of the summit kept our motivation high as it really didn't look very far off.  We booted across the rolling hill features below Yale's west face and began the ascent to the north shoulder.  The snow here quickly became breakable crust and setting a bootpack became exhausting.  I traded the bootpack with Carl for a thousand vertical up to the shoulder.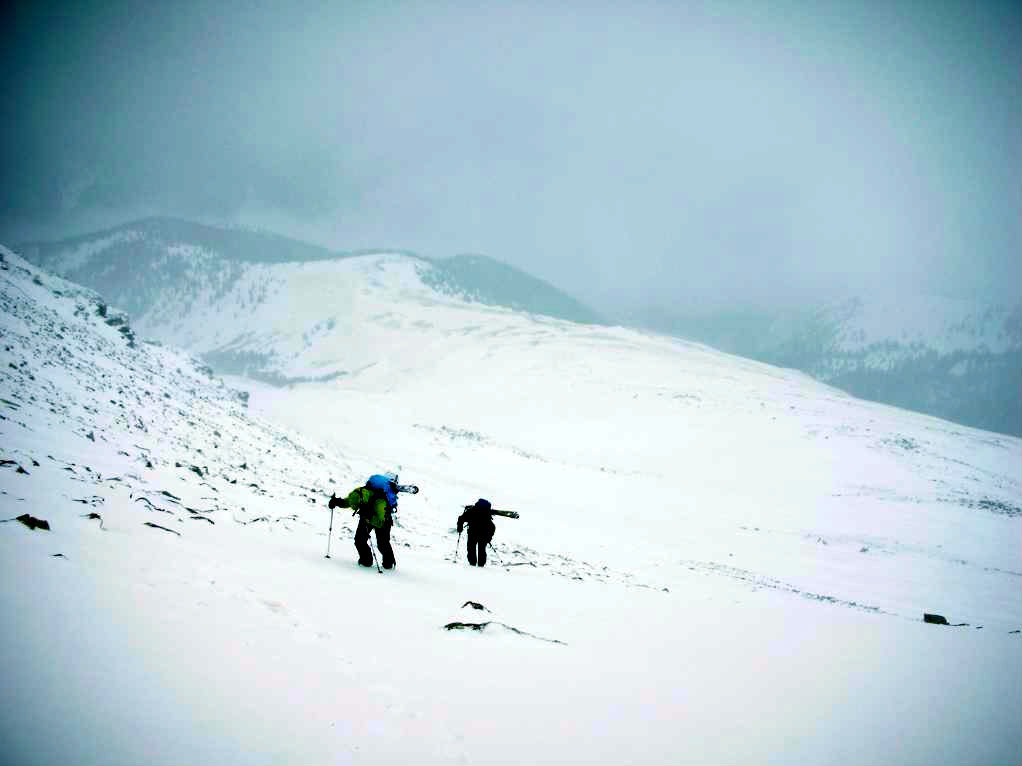 We ended up overshooting the shoulder to the east and gaining the north ridge a hundred or so feet above the low point, which meant we were less than 300′ from the summit.
Once on the ridge it was just a matter of rock hopping in ski boots in and around outcroppings and boulders.  Damn!  Did I just bounce my skis off a rock?  Eventually we leveled out on what seemed to be the true summit ridge.
We topped out as a group at 1:00pm for an ascent time of six hours plus a little.  We all needed a break, Caroline's bindings required some small adjustments so I took the opportunity to scarf down a pb n' j.  After a nice long stay everything was locked down and we were finally ready to ski.  We all touched tips to the register, traversed the summit ridge for a hundred or so feet, and dropped northeast into the bowl.
The snow was perfect on this north facing aspect; a nice 3 inch layer of wind deposited powder over a hard crust layer, these were the best turns of the day.  After skiing a few hundred vertical we began the traverse to the north shoulder, we had to be careful not to drop too low as no one was up for additional climbing at this point.
We ended up dropping a bit below the ideal elevation to get the shoulder, 40 feet of climbing with skis on made up for it.  Once out on the west face the sun decided to show itself, but the snow quality rapidly turned to frozen crust.  Just off the shoulder we were faced with a few hundred feet of rock hopping before we could open things up.
Finally after some raking of brand new skis on rock and a some marvelous looking turns, we were out on the main snowfield.
Below treeline we had fun playing on wind formations and downed logs, the snow turned to wet slush which was a lot of work but a lot of fun.  We were able to ski all the way out to the Yale sign in register before removing the skis for the final few hundred yards to the parking lot.  All in all a very satisfying ski descent on a big peak with some great people, I went to sleep a happy man.  Thanks for reading!