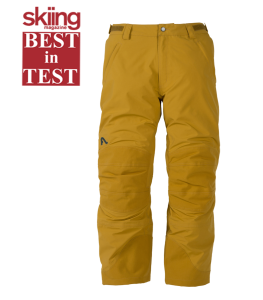 This is a well thought out ski pant from Flylow that can be used for both touring in the backcountry and inbounds. Its one of the most durable pants on the market with some of the better reinforcements out there. At the end of the day – its not a bad idea to have at least 1 item from Flylow in your ski apparel wardrobe, whatever that piece may be. This is a quality, long lasting product.
Function : Can be used both in and out of bounds. Very durable with reinforced knees and cuffs. There are vents on both the inside and outside that travel from your knees to your waist to keep you breathing on the uphill. The adjustable elastic waist is another great feature that avoids the need for a belt or suspenders. The old model wasn't famous for its waterproofing – it could repel enough to keeep you dry in periods of mild precipitation – but too much and you could get soaked. It seems like they have improved that functionality of the pant in the latest models – hence the prince increase.
Fit : A relatively baggy pant. I'm 5'11 185 with a 36 inch waist and the large fits me well. There is plenty of room for some layers of long underwear or fleece liners.
Colors : I bought an army green color back in 2011, which is cool cause it's not black, but its not loud either. Nowadays, the color schemes have remained simple or neutral – just a no thrills, low key, functional piece of gear.
Price : Flylow pants have seen a spike in retail price lately. I bought these in 2011 when the MSRP ran around $285 (I paid just under $200) and they now are offered at $340. It's still a great deal for the price and the customer service at Flylow is top notch. In fact, the customer service is uniquely good, at least from my own personal experiences – the owner Dan will usually throw in an accessory such as a beanie or pair of gloves in the event of a warranty repair when they ship the products back to you. Being relatively small still, its a personable company with a great vision as to what the backcountry skier wants/needs.