Cheap ski gloves are getting more and more popular these days and not just for fashion statement reasons. They are practical, affordable, more durable than they seem and give skiers great dexterity. I used to buy 70 to 100 dollar gloves and they would usually last a year, maybe 2 if I were lucky. Marmot, Black Diamond, Mountain Hardwear North Face, Hestra, Swany – it didn't really matter. A moderately large problem I had with some of these gloves, outside the lack of longevity, was the insulation bunching up when you removed your glove, making it brain damaging trying to put your hand back in. Kinco work gloves and Flylow Ridge and Tough Guy gloves avoid this problem by more consistent stitching throughout the whole glove.
Kinco gloves are the most popular brand out there because of their price. You can buy a pair for 11$ and squeeze 2 seasons out of them, taping up as necessary – or just start with a fresh pair. They are so cheap, it doesn't matter. Flylow has recently joined this market with their own versions of the leather work glove – the Tough Guy (50% leather) and the Ridge (100% leather). I just wanted to do a quick analysis of the two and highlight the benefits of both.
Warmth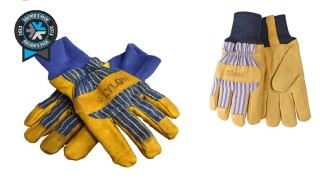 I've used both the Flylow Tough Guy glove and its cousin from Kinco – the 1927kw model. They are essentially the exact same glove in appearance. Neither company goes in to much detail about the technological advantages, but from experience alone, I noticed the Flylow glove had a shorter break in period, as well as some snow sealant encrusted upon all the leather parts of the glove. The Kinco appeared to have slightly more insulation. I've noticed that due to its slight advantage in warmth (meaning more insulation), it takes longer to "pack out", where the Flylow packs out in a season. The exterior on the Kinco wears away quicker though, so its a wash. The Tough Guy retails for $30 and the 1927kw retails anywhere from $11 on a clearance site (+ shipping and handling) to $17 at an Ace Hardware. Overall – I give the nod to Flylow's Tough Guy gloves, but I can't ignore the price point on the 1927's.
Waterproof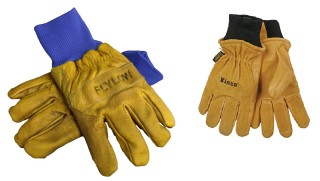 Flylow has been known to lather their leather ski gloves with a generous amount of Snow Sealant. The Ridge glove is flylow's all leather glove with Sno-Seal waterproofing and "HeatRac" insulation. Kinco's designated ski glove – the 901 model – is their all leather with additional "HeatKeep" thermal lining (more so than most of their other gloves) and a pre-treated waterproofing solution called REVIVEX, which is similar to Nikwax, except you simply spray it on the fabric instead of wash it in. I'm not gonna get in to the science of all this, but from the outside looking in, it seems layers of snow sealant would last longer and work more effectively than an $8 bottle of spray on waterproofing agent. I could be wrong though. Overall – I give the nod to Flylow Ridge Gloves.
Mitts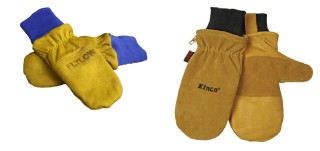 This is the one area where there is a clear cut winner. I first used the Flylow Mitts years ago and am unaware of any improvements they may have made in recent years, but the Kinco Ski Mitt (model 901T) has been a god send for inbounds skiing this season in Colorado. They have plenty of insulation, so much so that it doesn't really matter if they are waterproof or not, since no amount of moisture could penetrate all the way to your hands anyway. They take a day to break in and then they take on the feeling of a broken in glove. My hands haven't gotten chilly once and they have a comfortable 5-finger lining in the interior, as opposed to Flylow, which is basically a leather shell with no finger compartments. My Flylow mitt have been used primarily for scraping the ice off my car and backyard chores when its cold out. The leather palm on the Kinco has been sewn with reinforced leather patches for extra abrasion protection. Overall – this is a no brainer. Nod goes to Kinco Ski Mitts.
Final Thoughts
You can't go wrong with either brand. Flylow gloves are basically a Kinco manufactured glove with their own customizations (that's Flylow's business model and they do a great job at it). Kinco still holds their own and if you want to completely avoid cold hands on the chair lift, get the Kinco Ski Mitt 901T and your troubles will be over. Flylow has snow sealant and tends to be more waterproof and Kinco's all have HeatKeep insulation and tend to be warmer. For more information on these different technologies – try googling brands like Revivex, Nikwax, Sno-Seal, HeatKeep and HeatRac and see what other people's take are on the matter.