Peak: Capitol Peak, Elk Range
Date Climbed: November 1, 2008
Partners: Stuart Clark, Ryan Scollard
Route: Northeast Ridge Direct
Stats: 17 Miles, 5,300 Feet, 14 hours

With Stu's permanent relocation to Ohio coming in May, he has made it a goal to finally finish off the 14ers before then. With Capitol being his largest remaining challenge, we figured it had to happen either now or in May. We chose now, although in hindsight I think I would have preferred spring snow to the verglass/unconsolidated sugar we faced. Stu, Ryan, and I left Boulder at 2am on Halloween night and headed for Aspen. We arrived at the Capitol Creek TH at 5:45am and hit the ditch trail at 6:15. We hiked under the stars for about 20 minutes before seeing a glimmer of light on the horizon, sunrise followed shortly after.
We contoured around the valley (thanks to the ditch trail) and made good time to Capitol Lake.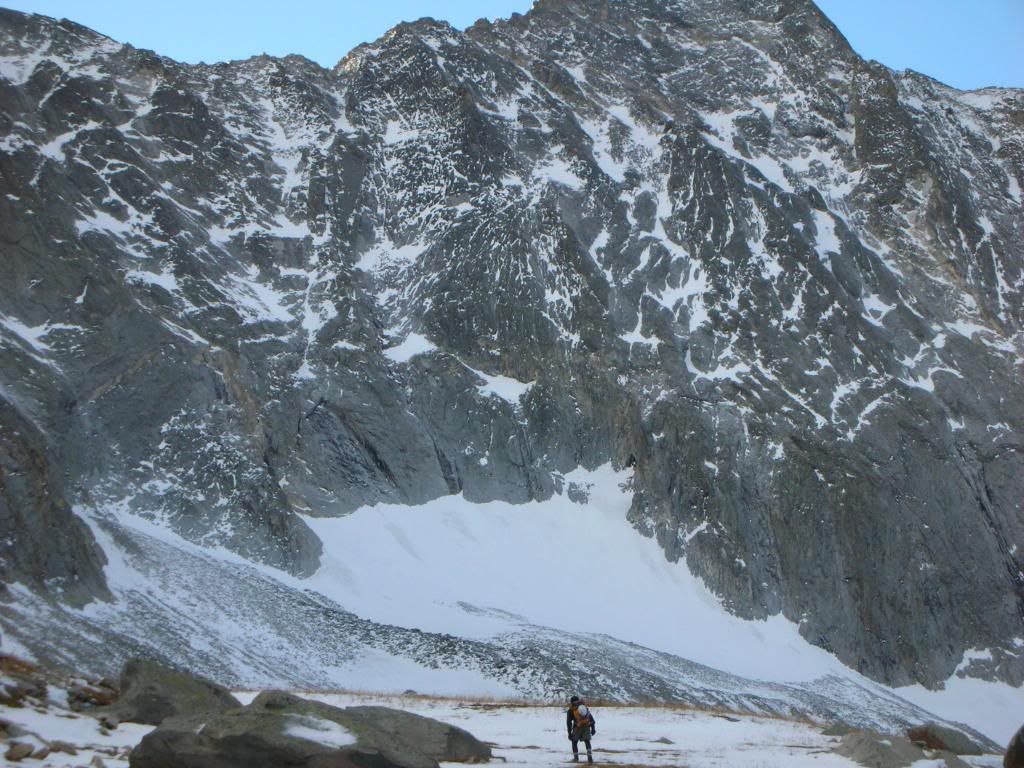 We made the K2/Daly saddle and with the valley below K2 completely filled in with snow, we decided to traverse across the cliff bands. Once out of Capitol's shadow, we were met with some fairly warm temps and low winds.
The second half of this traverse had some snow cover, and as a result our pace slowed quite a bit. Snow and ice slowing our progress was to be the theme for the rest of the day.
We continued to head towards K2, sticking to the right side of the slope as much as possible to avoid snow. We reached the base of K2 as some less than inviting clouds settled over the summit of Capitol.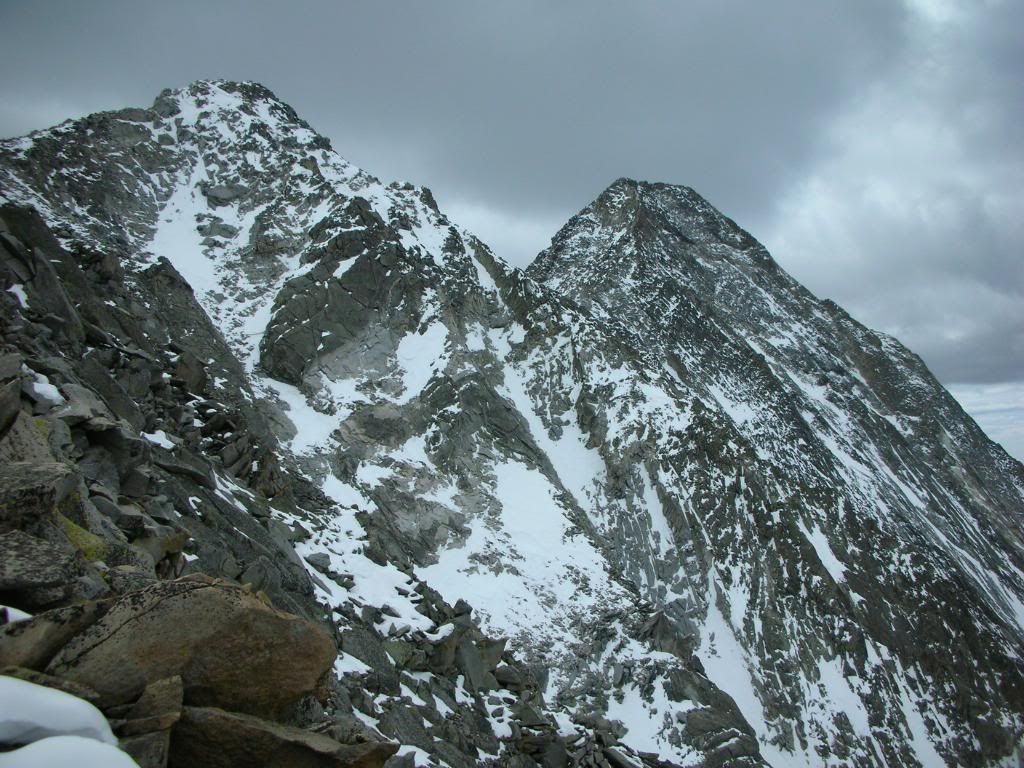 The tedious nature of climbing on thin snow and ice had eaten up a lot of time; it had taken us a suprising 6.5 hours just to reach K2 (my 2nd summit of Capitol took 4.5 hours for the entire ascent, we were moving SLOW). It was clear that we were running late and the weather was doing some strange stuff but we decided to give it a shot anyway.
Once we finally got a good view of the southeast face it was clear we were going to have to cross several small pockets of snow and ice. We were equipped with axes and crampons but as it would turn out the snow was so weak and unconsolidated that crampons were of little help. We ended up just avoiding the snow as much as possible, which meant sticking to the ridge when possible.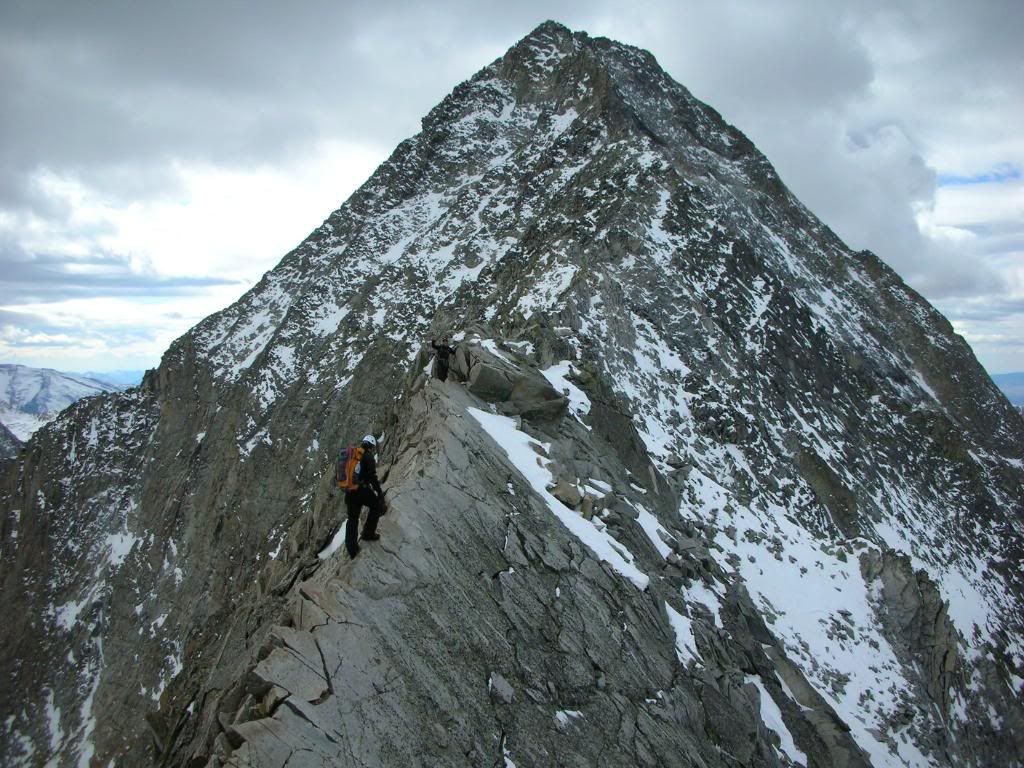 Our pace was painstakingly slow across the ridge; when we didn't have to worry about crappy unsupportive sugar snow, we were faced with verglass covered rocks. It became very tedious, but we were greeted with better weather which helped our spirits a bit.
The final push to the summit involved climbing class 4 slabs slightly to the right of the standard route to avoid a few pockets of snow. We topped out at 2:00pm (ascent time of 8 hours+) and took a look at the surrounding landscape for the first time. Snowmass and the rest of the Elks were coated in snow, and the sun was shining beams through the cloud cover illuminating select areas, very nice.
We rehydrated and ate some food on summit, noting that there was a squall coming up from the south. We were also pretty cold so we didn't delay on the summit for very long. Unfortunately the summit register was destroyed.
We decided to take the ridge direct route off the summit to avoid the snow cover we dealt with on the way up. Trading exposure for objective danger turned out to be a good choice, we made pretty good time back to the knife edge.
We arrived at the base of K2 at 3:30pm and made a poor decision to traverse around the north side of the summit instead of climbing up over the top of it. Ryan and I ended up on some very unsupportive sugar snow with virtually no holds and less than great runout, this was the one time I pulled my axe off my pack. I'm not sure how Ryan got through it but I ended up having to dig through the snow and stab the earth under it to get some purchase, then repeat until I was on dry rock again. Not fun.
Once out of that mess we elected to take the ridge all the way back to the K2/Daly saddle to save time and effort (this is the class 4 variation in Roach's book). This ended up being another good choice but it did force us to continue concentrating, my nerves were pretty well shot at this point. This ridge reminded me of the LB/Blanca ridge at times; very exposed and super thin in places.
We reached the saddle at 5:30pm pretty fried but happy to be on solid earth again. The sun set on us shortly thereafter and we were plunged into darkness for the second time of the day.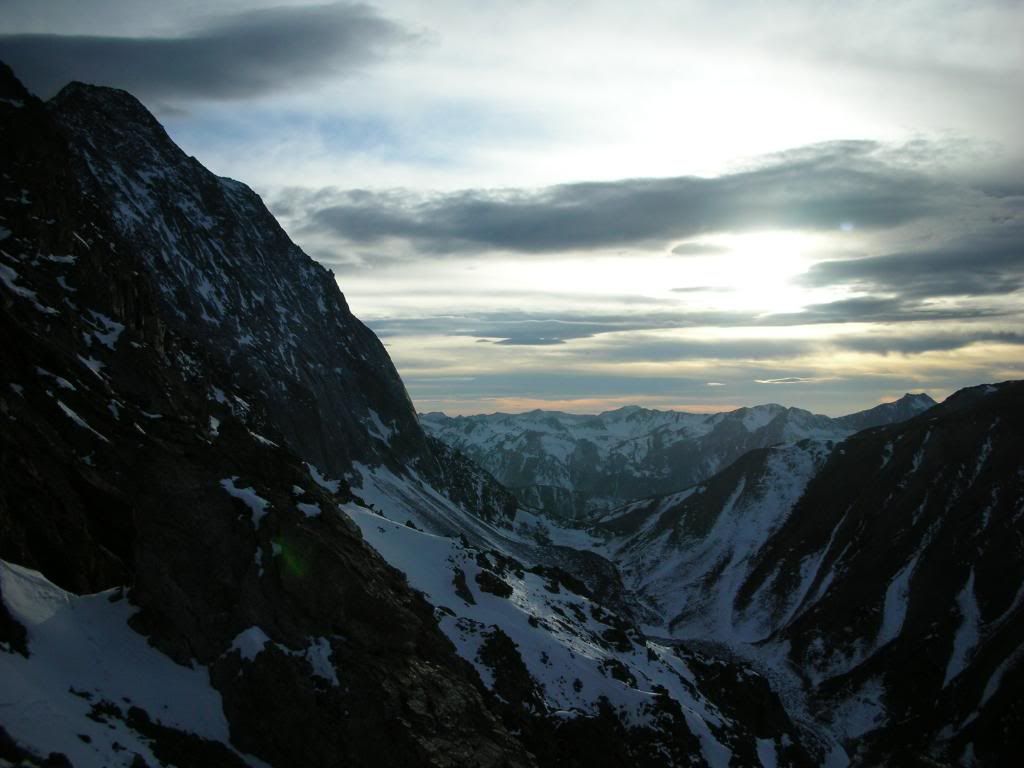 We slogged through multiple snow fields and forests, down and around the valley and across the ditch, arriving at our car past 9pm. This was a fine trip, but in the end I was left with more of a bittersweet taste because of the sheer amount of objective danger we had to deal with, sorta sucked some of the fun out of it I guess. Stu is well on his way now, only 13 Sawatch/Front rangers to go!