Anna-Lisa and I decided to take up an invitation to Telluride over the 4th for some hiking, climbing, and sightseeing action. On Friday the 2nd we loaded up the Accord with climbing and camping gear and began the long haul through the Rockies. Also along on the trip (in fact the whole thing was their idea) was Carl, his wife Dayna, and her sister Denise. One of the primary goals for this trip was to summit Mt. Wilson as it was Carl's final 14er on his list of 58. I was happy to see his project through to completion, I always enjoy being there when friends cross the finish line. It seems the Wilsons have sort of become a "finish line" group of peaks within my climbing circle; my buddy Jon completed the 14ers last summer on top of Wilson Peak, another finish line summit I had the privilege of sharing with a good friend.
Anyway back to the story…we motored up to Dunton and caught a few hours of sleep before setting off at 3:30am from the Kilpacker TH. As Carl mentioned a few times throughout the day, hiking without 35lb packs on our backs was nice for a change. We made good time into upper Kilpacker Basin, by the time we breached treeline the sun was lighting up the top of El Diente quite nicely.
After crossing a few snowfields we turned left and headed up a prominent gully. From below, we could see that the gully tops out around the 3/4 completion point of the El Diente-Mt. Wilson Traverse on the Mt. Wilson side. Note: this was NOT the Southeast Couloir on Mt. Wilson.
We quickly topped out on the ridge and had a quarter mile or so of fun scrambling ahead of us.
Within 20 minutes of gaining the traverse we were standing below Mt. Wilson's final summit pitch. This pitch will always reign in my mind as one of the toughest pitches of climbing on the 58 standard 14er routes.
We headed on up, making some fun moves above big exposure.
And just like that, Carl stepped on top of his final 14er, #58. Congrats again buddy! We hung out for a bit and enjoyed the fine July day at 14,000′, Mt. Wilson is one of my favorite summits.
Eventually we packed up and got ready to head out, but not before calling the wives and wishing them a good morning. We elected to head directly southeast towards Kilpacker Basin down a loose and convoluted gully system. Carl drew a route line on a previous photo showing our route, which looked something like this:
The hike out went relatively quickly, within an hour of getting off Wilson's flanks we were back below treeline admiring the view of El Diente from lower Kilpacker.
A few hours later we were back in the meadow by the parking lot where our wives were waiting for us, they brought tidings of beer and sandals.
After our 13.5 mile, 4,500′ trek, I was thinking nap. Carl on the other hand had something else in mind. Within 45 minutes of meeting up with Al and Dayna we pulled the car into the small town of Ophir. The destination: Cracked Canyon for some rock climbing. A (relatively) short hike had us below a good selection of easy to moderate trad routes.
We chose a 5.4 route called "Easy Money"
The next day we went on a hike up towards Lizard Head from the southwest, the views of Lizard Head and Mt. Wilson/Gladstone did not disappoint.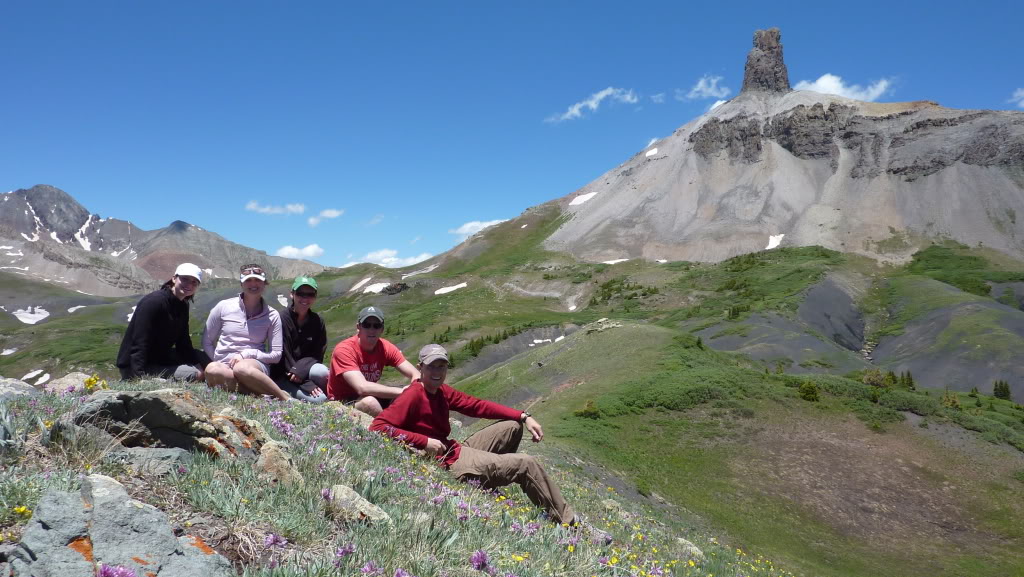 As Carl, Dayna, and Denise got ready to head back into Telluride for dinner and fireworks Sunday evening, Al and I packed up and hit the road. We did manage to catch a fireworks show in Gunnison on the way home.
All in all a fun weekend with good friends. Thanks Carl, Dayna, and Denise for making our 4th a good one!