For many people, Iceland feels like a far off destination. But with IcelandAir's recent addition of a direct flight from Denver to Reykjavik, you can leave tonight and be there first thing in the morning. Many people also think the country is one big chunk of ice, but someone got Greenland and Iceland mixed up and Iceland is really quite lush and green with plenty to keep an outdoor enthusiast busy.
We only had a short 10 day time period, but with the direct flight, we were really able to maximize our time there. The high season for Iceland is the summer, from June – Aug, but this is also when all the gapers show up (just for you Brian) so the shoulder season can be a great time to visit when there are fewer tourists and you can get a better deal on flights. The shoulder season is really May and Sept, outside of that, you can expect a lot more rain/snow and semi-frigid weather. Of course, visiting in the off months and over winter does allow you to see the Northern Lights, but outside of that, it is to freezing to do much else. We chose to go in Sept, over Labor Day and it turned out to be a great time to visit. Flights were about $700 from Denver on IcelandAir and we were able to use miles for one of us which was a great savings.
The direct flight from Denver leaves around 7 pm and arrives at 6 am in Iceland the following day. This allowed us to head straight out from the airport and have a full day to explore. There is one main highway that runs all the way around Iceland, locals call it the Ring Road and the plan was to try to loop the whole thing in our 10 days. We figured once half way around the circle, it wouldn't make sense to backtrack.
Iceland is an expensive country to visit; it is very isolated and just about everything has to be imported. Taxes are high on just about everything and you can easily break the bank if you are not careful. For us, we always try to travel on the cheap. Several years ago, we spent a year and half straight traveling the world and so that taught us how to be extremely resourceful while traveling in an expensive country while still having an amazing time.
There are 2 ways to get around on a budget in Iceland, one is to hitchhike, and two is to rent a car. On most of our previous trips, we always use public transportation, but in Iceland, it is impossible if you really want the freedom to see certain areas. Hitchhiking with 2 people is never ideal and we were not on that much of a budget so we decided to rent a car. The car cost us about $550 for the whole week which was a great deal and we ended up with an excellent car company (we read many nightmare stories about Iceland car rentals – see below). Gas was the biggest expense, at $9/gallon it is hard to suck up the price, but since we decided to camp most nights so we figured the car was also kind of our accommodation. We picked a mid-size SUV (Hyundai Tucson) that we could sleep in the back of if weather got rough.
Surprisingly, the most expensive thing we found in Iceland (besides gas and car) was eating out at a restaurant. The variety of Icelandic food options is slim and the cheapest thing you can get is an Icelandic Hot Dog ($3) which is basically the same hot dog we eat with mustard, ketchup, fried and raw onions. They can be purchased at all major gas stations. A burger, fries and soda at these same roadside fast food restaurants will run you about $15-18 which can be hard to swallow when that is considered a "cheap/fast" meal. Dinner at a standard, sub-par restaurant will easily run you approximately $25-30+ pp without drinks. The best way to get around the expensive and mediocre food is to bring stuff from home. Knowing how expensive the country would be, we planned ahead and came stocked with the following:
JetBoil Stove
6-8 Mountain House Meals – came in handy when we were in the middle of nowhere and we really couldn't find a place to eat
Laughing Cow cheese (you don't have to keep it cold) with salami and bagels, a great alternative breakfast item
We bought bread there, but brought a small Nutella and peanut butter, which is our normal lunch for hiking
Tons of granola bars, energy chews and other "snack" foods
Deviant Dales & Sierra Nevada Torpedo – a necessity
A small bottle of Crown & vodka – also a necessity
The limits to bring into the country are 1 liter of alcohol and 6 liters of beer pp and as long as you are under that, you can bring in whatever you want. Honestly, customs didn't even check out bags. There is a duty-free shop in the airport for liquor and other small things, but the prices were still more than the US.
On top of the food and drinks, we had all of our standard camping gear – a small two person tent, pads, sleeping bags and a collapsible cooler to of course keeps our beers cold in the car.
We started our trip in Reykjavik but quickly picked up the car at the airport and headed out. Hitting the road, we headed immediately to Pingvellir National Park. On the drive there, we were already oo-ing and aw-ing about the scenery, but little did we know, the best was yet to come. We arrived at the national park which sits inside an immense rift valley caused by the separating North American and Eurasian tectonic plates. We had several stops we wanted to make so we did a quick stroll around the visitor's center and the lake and headed out. Next up was steaming sulfur area where we found the original Geysir. This Geysir is the original hot-water spout after which all other geysirs in the world were named after. The famous Geysir doesn't really go off anymore because some stupid gapers through rocks in the hole to try to make it go off back in the 50's, but the nearby Strokkur Geysir was still impressive and went off every 3-5 minutes. With no time to spare and the sun slowly moving down in the sky, we moved on to our last stop for the day, the spectacular waterfall Gullfoss (Golden Falls). It was an impressive final stop on our first day in Iceland.
The next day we made our way to Landmannalaugar. This area is the start of what is supposed to be one of the best hikes in Iceland. A 2 to 4 day trek takes you from Landmannalaugar to Porsmork and given this is a popular trek, the infrastructure is solid nearly the whole way. Book early if you plan on doing this in the high season. We didn't have enough time to do the hike given our timeline, but the area and drive out to the spot where you leave was truly out of this world. The green moss-covered hills against the grey sky and countryside made for a dramatic backdrop. Unfortunately, it rained most of the day and when we got out of the car to go for a small hike, it started coming down a bit harder. Cold and wet, we didn't make it very far and decided maybe the warmth of the car and just driving around in the area was a better way to spend the day. Plus, we were still very inland and we had to get close to the coast to get back on the Ring Road.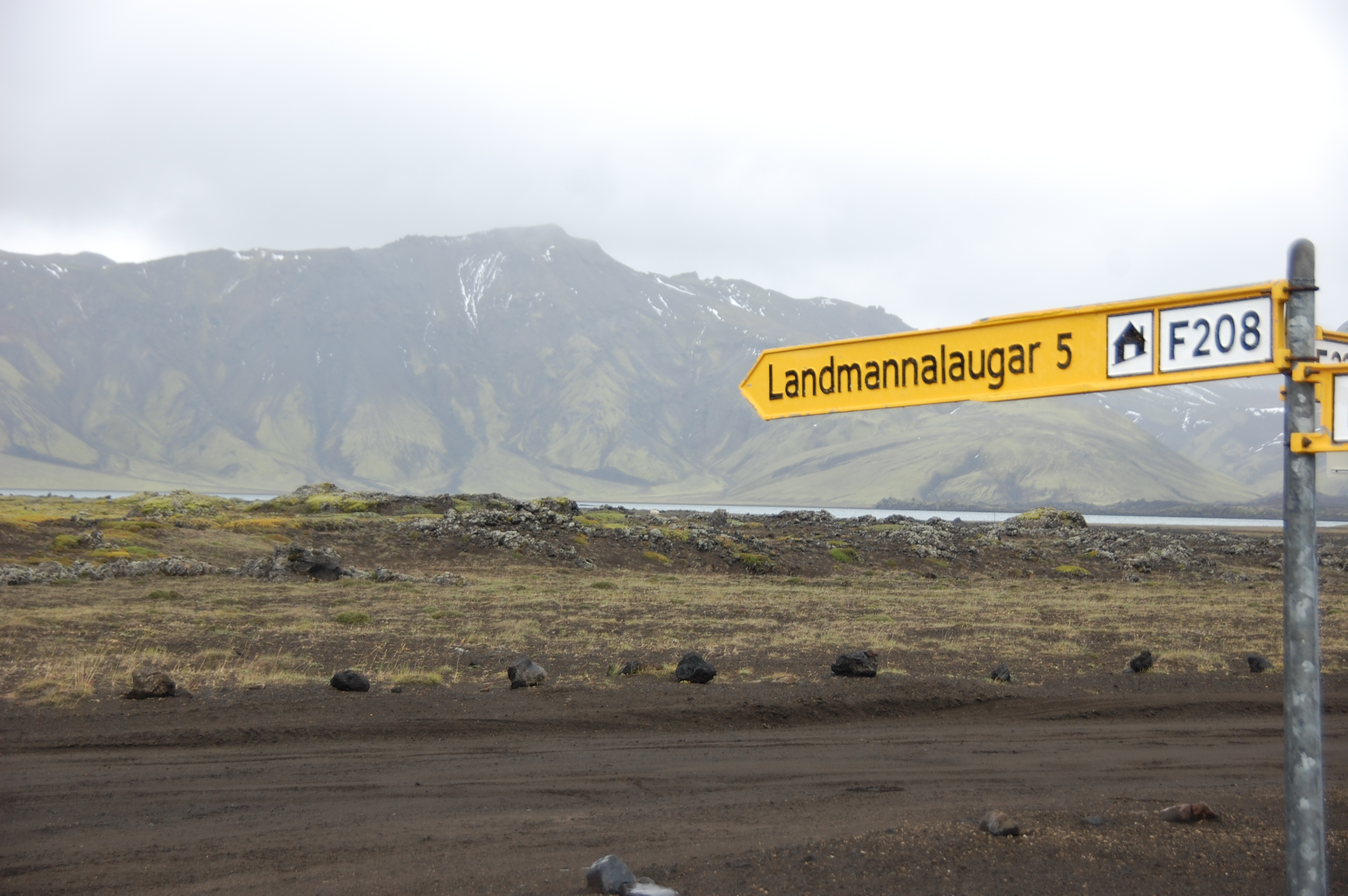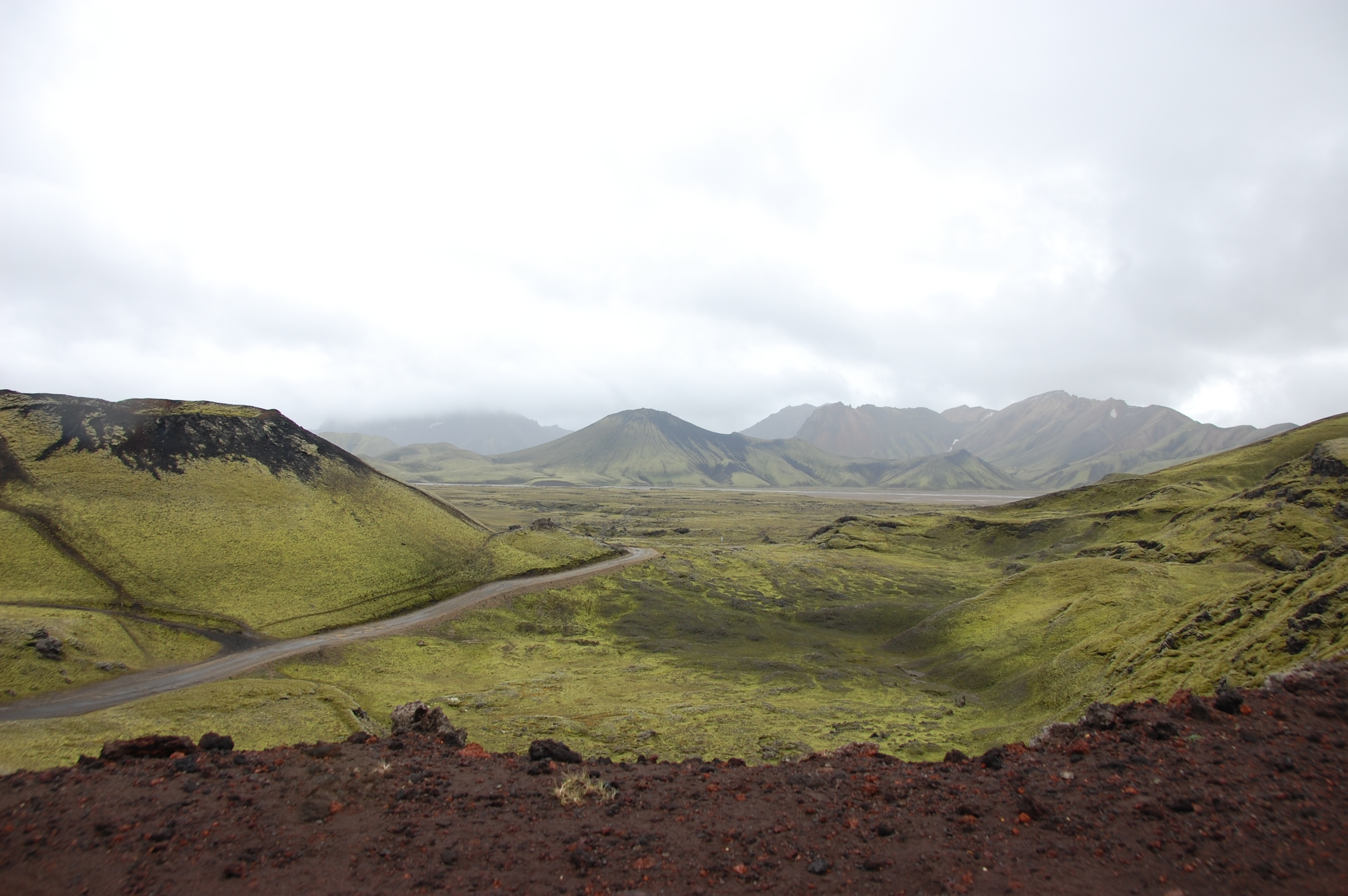 The great thing about Iceland and having your own car is there are tons of detours to take along the way. We visited countless waterfalls, many more spectacular than the one before and there is always an excuse to pull over and take a picture.
Next on the list was to follow the southern coast and make a trip to the Skaftafell glacier. The glacier is part of Vatnajokull National Park and this area was definitely a highlight for us.
The plan was to head up the tallest mountain in Iceland, Hvannadalshnukur (2110 m), but what we didn't realize was that trips to the summit had ended 2 weeks earlier due to the warm weather which made the glaciated route impossible to pass. The total elevation gain for the hike is more than 2000 meters and the best time to climb is July or August although we were told usually trips run into Sept. But unfortunately for us, none of the tour companies in the area were heading up anymore and as one of the largest glaciers in the country with thousands of massive crevasses, it is not a place you want to try to climb on your own. Feeling defeated, we decided to book a mellow glacier trip for the next day and spent the rest of the afternoon on a hike up the nearby hills. It turned out to be a great little climb with views off onto the main tongue of the glacier from above. These trails leave from behind the visitor's center and are very easy to navigate.
The next day we joined for a 4-hour tour up onto the glacier ($105 pp). We booked our trip with Icelandic Mountain Guides and it was easy to just show up and book the day before, not sure if they fill up in the summer. They hooked us up with all the necessary gear – crampons, ice axe and harness. We crossed a small ravine to climb onto the massive ice cap and starting following the guide. We were only roped in for a small section and from then on it was up to you to watch your step. We were surprised to see the guide navigating us (and many novice ice climbers) over large crevassed areas. We were not convinced any one on the tour (except us) would know how to use the ice axe in their hand if they did fall. The area was not steep, but one girl did slip and started to slide into a small crevasse to her right. Thankfully she was able to catch herself with her foot and someone quickly picked her up. The guide didn't seem fazed and we continued on.
This was our first time on a proper glacier and we both really enjoyed it, the ice cap is a spectacular feat of Mother Nature and to be standing on it, really put into perspective how massive and powerful it is. After a few hours and no one falling into another crevasse, we headed back to the camping area to pack up and head out.
Our next stop was probably one of our favorite places on the trip and something we felt like was a once in a lifetime place to visit. Just off of the side of the Ring Road, huge chunks of the glacier break off and have formed a large glacier lake called Jokulsarlon. Inside the lake, several hundred glacier "islands" bob in the water and slowly make their way out into the ocean. The lake is the bluest color you have ever seen and up against the white ice pieces, it is a marvelous place to sit and ponder. You can even walk along the river and see the pieces that floated out to sea. We also spotted a few seals checking out the lake as well which was pretty cool.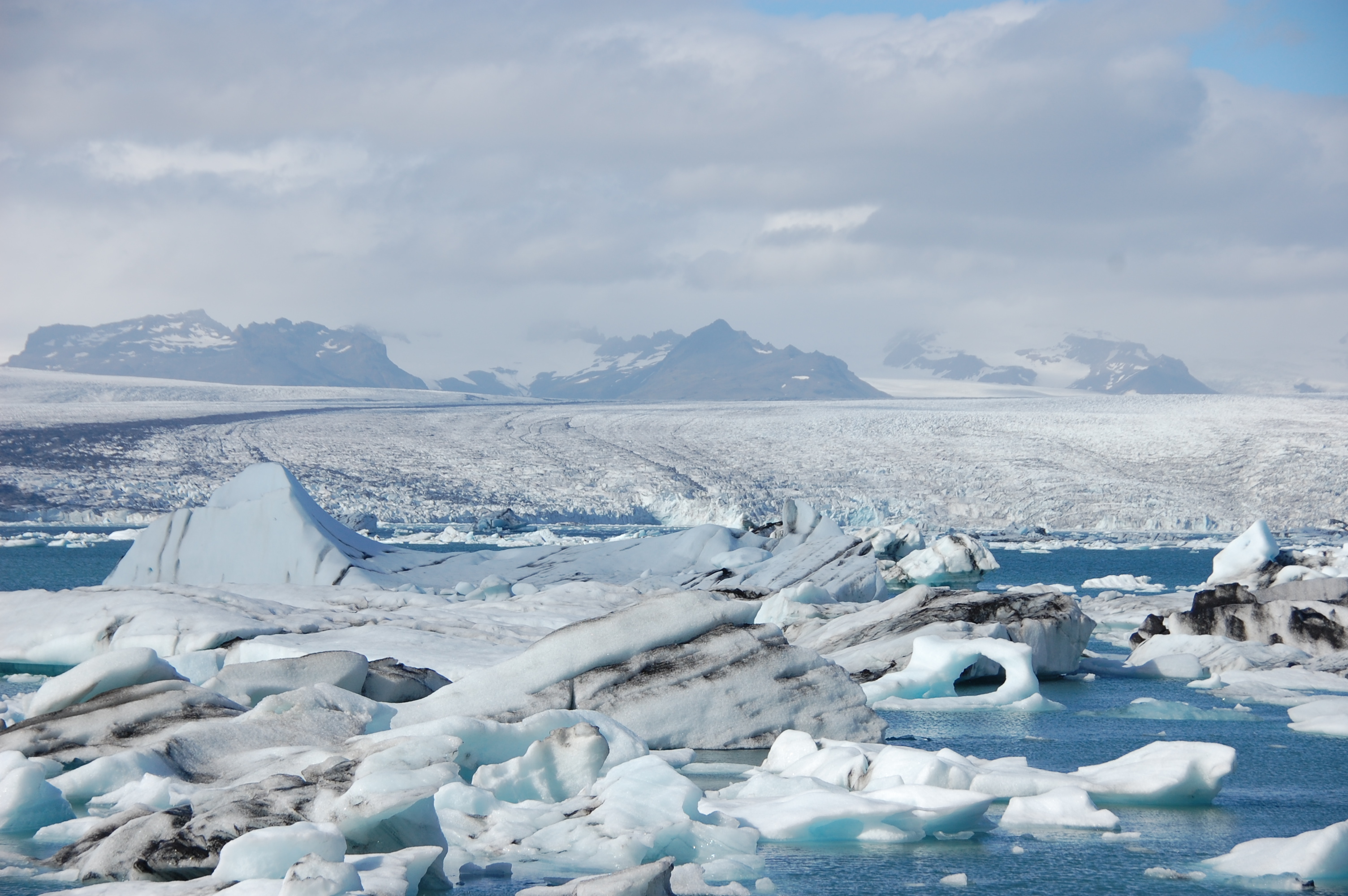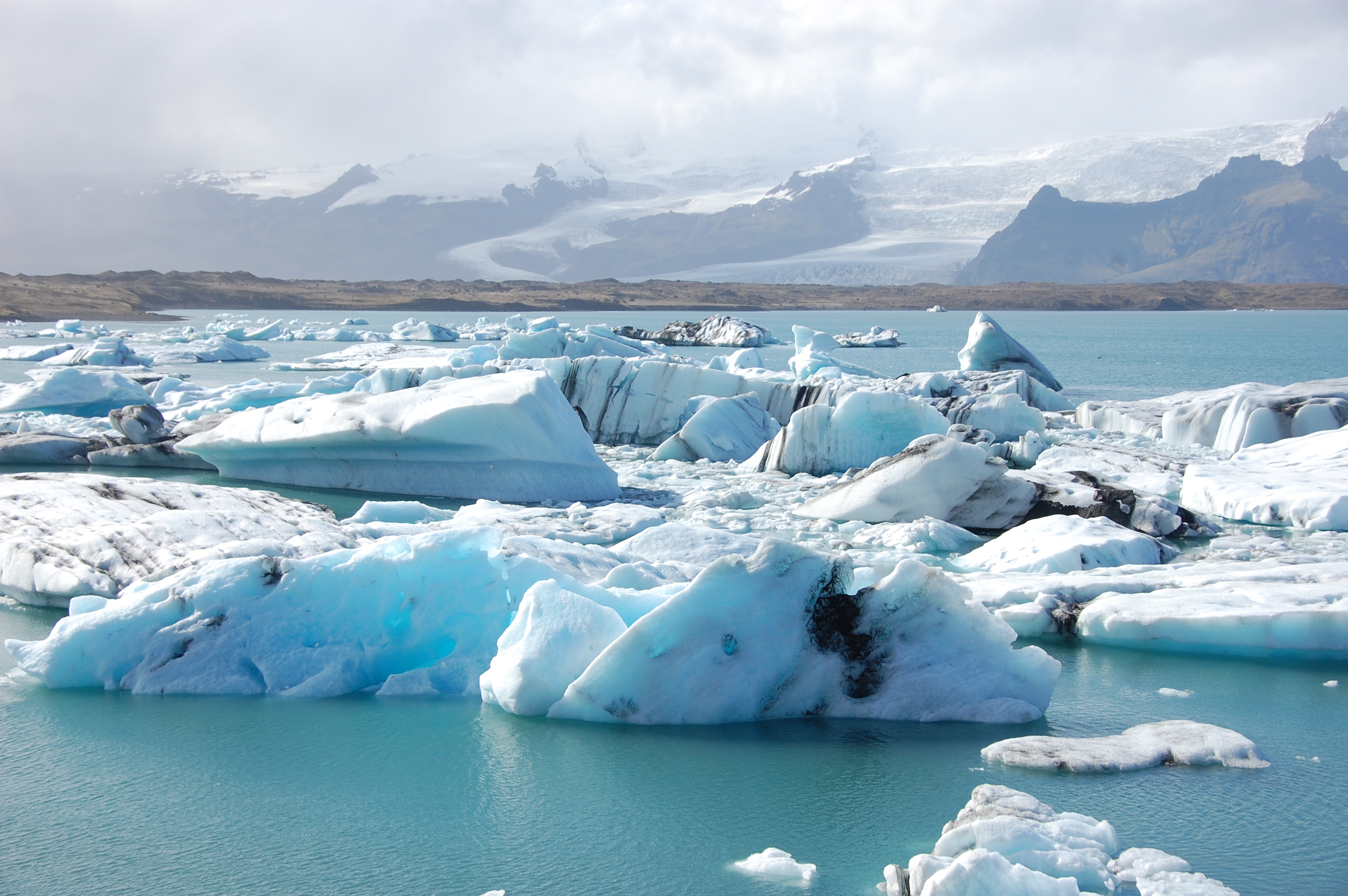 Once again on the road, and up the eastern coastline, we were in search of Iceland's famous fjord-filled coastline. We made our way to the town of Seydisfjordour and decided to grab a hostel for the night to warm up and get clean. We stayed at the HI Hostel in town which was a nice choice for the night. A private room with our own bathroom was about $90. It was more expensive than we thought it would be, but we are too old to want to sleep in a dorm and this was the only room they had left. We took advantage of the nice kitchen and bought food at the grocery store to cook a carb-loaded pasta dinner.
We had a lot of rain while traveling in the south and as soon as we rounded the southeastern corner, the sunshine came into view. It was a welcome change and so we headed out for a small day hike outside of town. Just off the road that leads into the city, there is a small turn off where you can climb up the ridge of the Fjord to get some fantastic views. The nice man in the visitor's center gave us directions up the road. We walked around for an hour, snapping some photos and then made our way back to the car.
We then continued north along the Ring Road to the sleeping fishing village of Husavik. This is the mecca of whale watching in the country, but given how late we were there in the season, we weren't sure how good our chances were of seeing them. We opted to not join a tour and to save the $60 to spend on a nice dinner in the city. We strolled around the quiet streets and then, you guessed it, back in the car!
Next up was the northern town of Akureyri and this place seemed like a booming metropolis after all the other sleepy Icelandic villages we had been through. Several traffic lights and a little "downtown", it was nice to feel like we were back in a city again. We got directions from the tourist office for a small peak hike up Mt Sulur (1213 m) just outside of town. Anxious to really climb something, we drove straight to the trail head. It was a great little hike to stretch the legs and there were amazing views over the fjord valley below overlooking the city. After coming back down, we grabbed a bite to eat at a local burrito shop. It was obvious someone tried to copy Chipoltle, but let's just say, the burrito wasn't even close and we left disappointed. Pondering where to park our tent, the trail head seemed like the best secluded option so we drove back up the road to settle in for the night.
The trip was quickly coming to an end and we needed to make the full loop down the western side of the country, back to Reykjavik. We drove straight through from Aukureyri to the capital city. Parking the car, we wandered around trying to find a good hostel for the night. Visiting the hostels listed in the Lonely Planet always means higher rates and packed rooms, so we went around the corner from the hostel mentioned in the guidebook and found a great little place with three small rooms for rent. We got a private room with a shared bathroom for about $75/night. We spent the rest of the day checking out the city before resting up for the night of partying we had in front of us.
Icelandic people know how to PAR-TAY. It was Saturday night and we had been warned to prepare for a crazy night out. Once that sun goes down, locals come out to drink, and they don't casually drink, they drink to get drunk. Well, when in Rome…
Thankfully we stumbled upon an awesome bar called Micro serving up an Icelandic IPA. It was on tap, delicious and it felt just like home. It was just what we needed to start our night full of debauchery. Several new Icelandic friends, shots of random black liquor and Jason being turned away from a bar for not wearing a "sport coat", we found ourselves at the local fast food joint with all the other drunks at 4 am eating a sloppy-joe sub sandwich. Was it good? I don't think so, but we don't remember. Somehow we stumbled back to our room.
The next morning came a little too fast and the hangover quickly took over any plans we had for our last day in Iceland. A trip to the famous Blue Lagoon Hot Springs had been in the cards, but the thought of sitting in a steaming hot pool made us feel nauseous so we just headed to the airport a bit early instead as it was time for the trip to come to an end.
It was a fantastic trip and we would highly recommend you add it to your list if you enjoy the outdoors. The diversity, beauty and friendly locals make it a place we definitely would like to return. We always like to summarize the trip with a few highlights and lowlights, as well as a few tips and tricks we learned. Thanks for reading!
Highlights
All of the stops along the southern part of the island, if you are short on time, this is a great area to explore
Exploring the Skaftafell Ice Cap and then the nearby Jokulsarlon ice lagoon
How easy it was to navigate and get around there. Yes, you can't pronounce any of the names of the cities, but if you can find them on the map, you are good to go!
The Icelandic people are some of the friendliest in the world. They are helpful, welcoming and don't laugh at you when you butcher the name of their city.
Lowlights
Not being able to find ice to keep our beers cold anywhere so we improvised with a chunk of ice out of the Blue Ice Lake. Then we found out many of the N1 gas stations have it for free by the beer, you just have to ask.
Not getting to do as many big hikes as we had hoped. Weather didn't cooperate in the beginning and we didn't have many extra days to spare with all of the driving.
Filling up the car with a half tank of gas and realizing it cost us $100
Going to the liquor store and figuring out that one local beer cost between $3-$5 each can/bottle. Do yourself a favor a bring your own.
Tips and Tricks
All gas stations take debit cards only, not credit cards. You need to bring a card with a pin or purchase pre-paid gas cards at the register.
You really don't need much of the local currency, all restaurants, gas stations and other stops along the way take credit/debit cards.
Citizens from the US do not require visas for entry into Iceland.
Traffic drives on the right side of the road, just like home.
Bring an Iceland Road Map. We bought this map on Amazon and also had our Iceland Lonely Planet, an updated version just came out in June 2013.
If you want to do anything off of the Ring Road, rent a 4×4 car. Besides just having so much more space, they are the only cars you can rent that are able to drive on their F roads (dirt roads).
We read a lot of bad stories online about American rental car companies (Hertz, Avis, etc) and people getting ripped off when they brought the car back. We used Blue Car Rental, which is an Icelandic company, and it was super easy. They had the most positive reviews online. All of the main insurance you need is included in the price of the car. They were the most competitively priced as well.
We chose to rent an older car from them (which are cheaper) and it already had a bunch of dings and scratches on it which made us not as paranoid about getting charged for damage. Our car had over 100,000 KIL on it but it ran fine the whole time with no issues.
We heard that you should always wash your car before bringing it back so you don't get charged a cleaning fee. All gas stations have a free car wash you can use when you fill up.
Bring food, drinks and snacks, we found it hard to find things we wanted in the Icelandic grocery stores and of course, everything is more than the US.
It was windy almost everywhere we went, beware when opening your car door and bring a good shell/rain coat. Waterproof pants also come in handy.
All of the towns have local thermal swimming pools you can visit, they are only a few dollars and they are a great alternative to the expensive more famous hot springs around the country. They have showers, bathrooms and lockers to get ready as well. Great if you are camping and need to warm up. We went to a awesome one in Akureyri.