Mary Jane/Winter Park – November and December
---
Ben, Hugh and I back in early December discovered a new run of sorts that is arguably "the run" to hit if you have first tracks of the day. It's called "Possum's Perch" and it's in the trees under Super Gauge to the looker's left – parallel to Riflesight Notch. I disclose the location cause 1 – I know I'll get there before everyone else and 2 – I'm a firm believer in sharing the goods. The following shots were taken over the weekends of the 7th, 14th, and 21st of December.
Ben chiming in here. I recently converted to the Rocky Mountain Super Pass having held a 5 Mountain for many years previous.  All I can say is, for a Denver weekend warrior like myself, there are a lot of pros and not many cons to my new situation.  With Interstate 70 seeing more and more traffic related incidents this year, only having to deal with 20 or so miles of it has been a blessing.  Winter Park's terrain is tough to beat, and I have no doubt that will become more and more apparent as the place gets more snow.  With 143 inches already piled up and more on the way, skiing here has been a pleasant surprise.  Also with Berthoud Pass' excellent touring options just a stone's throw away from the resort, it's nice to be able to head up to the hills knowing we have options.  Back to Brian…
Steamboat has been particularly good this season, almost indication that we are in a La Nina weather pattern. Boasting one of the best snowpacks in the state so far (around 65″ currently) – it has produced storm after storm of champagne. Kevin, Matt and I made a daytrip up on Christmas Eve after the mountain had received 30 inches over a 72 hour period. Around 2 weeks later – Ellis, Kevin and I decided to take my old manager John's advice and meet up with him at the Boat with an a forecast that kept getting better and better by the hour. We arrived to a 18″ of fresh reported at the mountain. Its tough to decide which day was better.
Steamboat – Christmas Eve
---
Steamboat – January 4th, 2014
---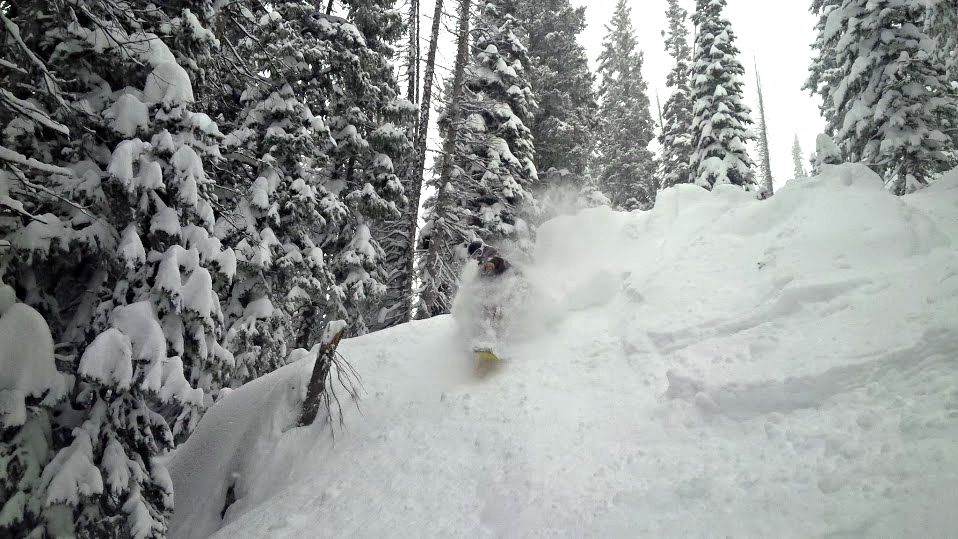 Mary Jane – January 12th, 2014 (Derailer Trees – "Thread the Needle")
---
Yesterday was a nice surprise. After a crowded saturday, the Jane was leaning towards an icy, tracked out sunday, but thanks to a heavy early morning storm that dropped 10″ throughout the course of the day, most of saturday's damage was filled right back in. It ended up being a great day.
The highlight of the day was Ben, Jason, and my lone run in to Derailer's "Thread the Needle" tree shot. This was finally filled in enough to warrant a trip down the untracked pillow run. Upon arriving to the 2nd platform and having our pick of the litter – all the options looked good to go and untouched that weekend – surprisingly. After dropping in to the right, I took shots of Ben – who decided to take a shot at the headwall straight on. I warned him that the snow was being held to a rock face underneath – but we all figured there was enough snow to make it safe. Here is what ensued…
The only damage done was 3 months of snow accumulation taken out in a single turn. It was more amusing than scary and Ben walked away with a few scrapes on the base of his skis and Jason was shifted down the hill a couple feet. This is nothing more than a perfect example to travel in groups – even in bounds.