May 3, 2014 – 7.5 miles / 2,400 feet
---
Something has been missing from my life in 2014. My mountain pursuits have been tabled since a solo trip up Lady Washington and a weekend at Barr Camp with my oldest and her friends in January. For the past few months, stress has been ever-present and while I've had plenty of support from family and friends, a spur-of-the-moment move (which did little to restore my faith in my fellow man) and drastic spike in my workload has had me reeling as of late. That stress was historically tempered by my mountain excursions. (It's odd, I can be sleep-deprived and worn out, but there's nothing like a 12-hour marathon day in the hills to bring me back to normalcy.) And while an impromptu jaunt along Trail Ridge on Good Friday did a lot for my psyche, that void remained. The following weekend took me to the Sangres with some excellent company but a thought occurred to me while sleeping in a driving snowstorm with a tailgate slamming against my legs and a friend was sleeping in the crapper – maybe I needed to rethink my approach to all of this…
My oldest daughter and I have held a special bond since I got out of grad school in 2009. I wasn't around as much as I would have liked for her first couple of years since work, life, school kept me away much more than I would have liked. Afterwards, we constantly had Daddy-Daughter days, nights, weekends, you name it. Then, last fall, something changed. She began 1st grade and the early mornings, (relatively) earlier evenings, and extracurricular activities have taken their toll on our time together. I really needed some time with my little girl and with a free weekend and an excellent forecast; it was time to head for RMNP.
My apologies on the picture quality – I'm stuck with my iPod since that Sangre trip also cost me my camera somewhere along the North Fork of the Zapata Creek.
After our alpine start time of 10:00, we made quick work of the trail from Lily Lake down to the bridge over Aspen Brook where the snow began in earnest. I had her winter boots and snowshoes in my pack, but I was starting to rethink leaving my snowshoes in the trunk. Luckily, the snow wasn't deeper than knee depth for 95% of the hike and soft enough where my shoes wouldn't have made much of a difference anyways. We took a few snack breaks and I thoroughly enjoyed catching up with her. It's funny, she's only 7 and she'll say things that make you think you're talking with a 20-year old but yet do things that remind you that she still holds that innocence that is so precious to a father.
The snow became deeper as we approached Storm Pass but was holding pretty firm under our feet. The trail doesn't see anywhere near the traffic I was expecting and I was wondering what the final push to the summit would look like in virgin snow. We were however able to piece together patches of dry ground and while going off-trail made her noticeably uncomfortable, I felt right at home. Bypassing the lower switchbacks made the ascent some of our fastest progress on the day but her legs were starting to wear down. Maybe 100 feet from the summit, something caught the corner of her eye and she turned to spot a deer next to the trail. It's refreshing about seeing someone take such delight in an occurrence that, unfortunately, has become so mundane based on my experiences. She turned, grinning ear-to-ear with huge eyes, and screamed, "That's the closest I've ever been to a deer!" They say everything happens for a reason, and I firmly believe that the deer encounter got us to the top. She set off with a renewed energy and, to our benefit, the deer was heading up hill. She enjoyed tracking it through the snow and before we knew it, we were at the base of the final climb.
She made quick work of the class 2+ finish and then stood atop her 2nd mountain. I had our youngest in the backpack for her first so this was the first time I could introduce her to the summit lounge. We picked out a nice spot to enjoy the day, bask in the views, and even feed a friendly chipmunk that had a liking for BBQ Pringles. It took us almost 5.5 hours to ascend so we couldn't spend quite as much time as we would have liked but she's starting to appreciate the summit which should help this summer. The hike out was uneventful besides her education into the fun that is post-holing. Nevertheless, we made it down in about 2:45 and the car was a welcome sight to us both.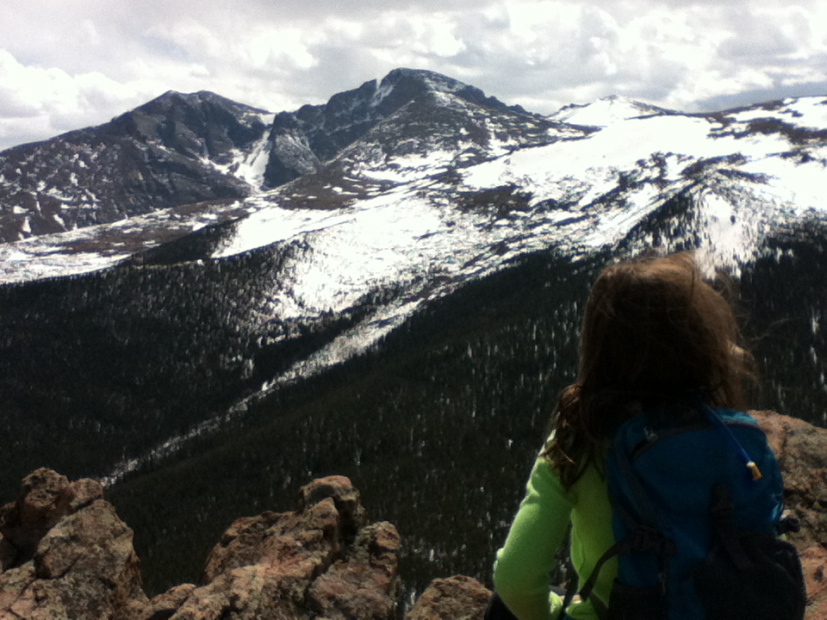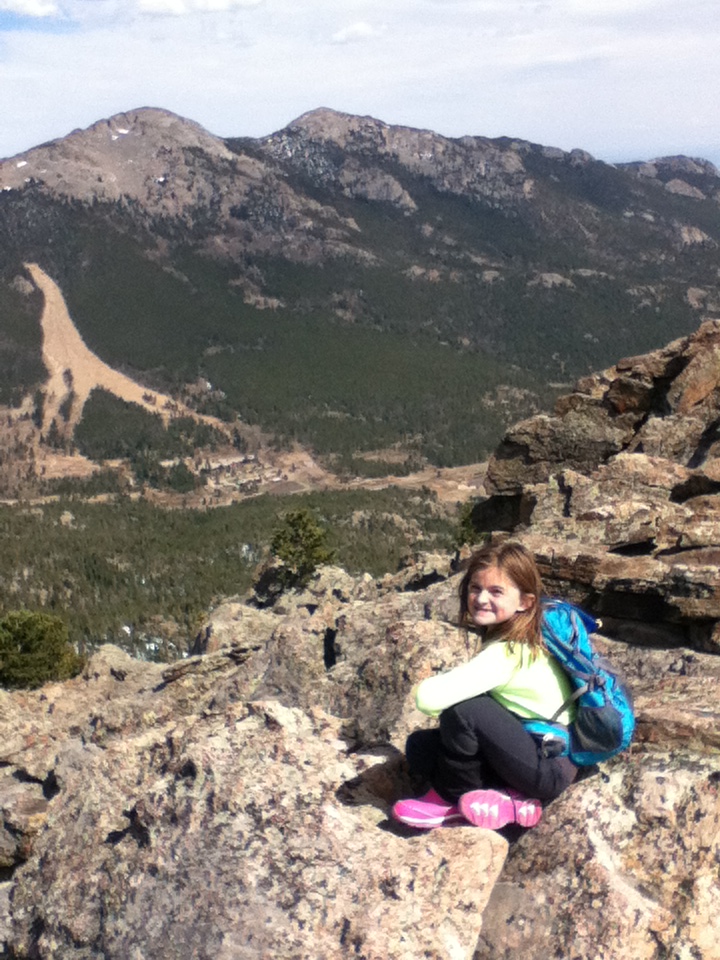 The next stop was town for our tradition of pizza/ice cream after a hike. Chicago's Best in Estes Park has become our hangout and while I'm impressed with their pizza, I'm a big fan of their Santa Fe Chicken sandwich (not sure why it's named that since it's basically a Buffalo Chicken sandwich). If only they would get a beer menu, I may be swayed from Wapiti on my other visits to the area. After a day like this, I can say that I now understand what's been missing and since there are only a few more weeks until summer break, I'm thrilled to soon have my little buddy back.