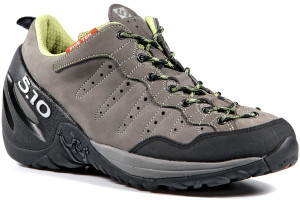 As we make the rapid transition to summer hiking season here in Colorado I thought I'd kick it off with a review of my favorite piece of footwear – the Camp Four trail shoe from Five Ten. This shoe has been just about everywhere with me since I bought my first pair in the spring of 2007, from long distance trail running endeavors to peak bagging missions, hanging around at the local crag to alpine trad climbs on Crestone Needle and the First Flatiron. It's nice to have a few time-tested items in your arsenal that you can simply order brand new every few years with full confidence in what you're going to receive. No shopping around, no sizing up or deliberating over various products, you just know. Well, this shoe is that piece of gear for me, and my fourth pair just arrived in the mail yesterday.
To start things off, the Camp Four might be best described as a multi-use approach shoe. A hybrid between a trail runner, an approach shoe, and a climbing shoe, the Camp Four seems to hit the nail on the head in all the right areas. Although I've had to replace mine every two seasons, I think that speaks more to the amount of time I spend in the hills than it does to the shoe's durability. These beefy shoes have been rock solid for at least the first few hundred miles of rugged terrain for every pair I've owned thus far (thanks to their Nubuck leather construction and hard toe cap), and I've always replaced mine a tad on the early side. Three seasons of extensive use, spanning from long distance approaches to class 4 scrambles, is not out of the question with these shoes.
Despite being "low tops", these shoes provide a surprising amount of ankle stability even while sidehilling on steep ground. I've even backpacked with them and they've held up just fine over many miles of rugged terrain. This uncanny stability is due to the shoe's relative stiffness, as well as their molded polyurethane heel cage (that is very obvious when looking at the shoe from behind). Add in a compression-molded EVA midsole and you've got one hell of a stable shoe. A well-designed lace toe closure provides a wide range of adjustability that can be kept loose for the approach and then tightened up when things start to get more vertical. Though not fully waterproof, they'll do fine in a puddle or brief section of saturated marsh here and there as long as its not too deep. Personally speaking, I like non-waterproof shoes in the height of summer as fully waterproof translates to "hot" in my experience.
Perhaps the true heart and soul of the Camp Four is what it can do on rock. Thanks to the ultra-sticky sole and stability I mentioned earlier, these shoes can tackle terrain up to around 5.6 in difficulty with minimal issues (or higher for some – Ammon McNeely has set many of his El Capitan speed records using the Camp Four). They are a staple for guides who lap the Grand Teton on a daily basis, and the Upper-Exum on the Grand may very well be the perfect peak to showcase the Camp Four's versatility. With a 6 mile approach up Garnet Canyon, which entails long stretches of rock-studded trail, boulder fields, and talus slopes, you need something that will protect your feet and provide the necessary support, especially if you're wearing a heavy pack to make camp at the lower-saddle. On summit day, your footwear priorities will change as you'll need a shoe that smears and edges well enough to tackle the 5.6 friction pitches of the Upper-Exum Ridge, yet is light enough to keep your legs fresh as you take on a large day at altitude. The Camp Four is more than enough shoe to handle all of the above, and then some.
It wouldn't be fair of me to conclude this review without touching on one or two of the cons of the Camp Four. Some may prefer a waterproof shoe and/or a higher ankle support than the Camp Four provides. I have smacked my ankle bone on rocks many times and wished I had more padding higher up my leg, but once the pain wears off I realize low top shoes are lighter and more nimble than traditional hiking boots, and so the occasional minor ding is worth the weight savings (to me at least). As for waterproofing, I have come across stream crossings that my partners were able to blaze through in their clunker hiking boots, but I've always managed to keep up with them and keep my shoes dry. Lastly, these shoes do not come cheap (retail value is now $150) and they are hard to find on sale. All in all though the pros of the Camp Four far outweigh the cons in my book. If you're looking for a do-it-all trail shoe, look no further than the Camp Four.
Seeya out there!