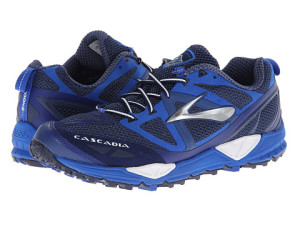 I am not exactly sure when or why it happened, but at some point in the past few years, buying trail running shoes became a huge, huge thing. Step into any running specialty shop or mountaineering store these days and I can pretty much guarantee that you will eventually come to a wall that is completely packed with trail running shoes for sale. As you look around, you will notice that there are literally dozens of different options, colors, makes, and models to choose from offered by virtually every brand imaginable. If you are anything like me, it is pretty overwhelming and confusing.
Compounding the issue is the fact that most of the people trying on these shoes look like they would get tired jogging up your local sledding hill – it is usually not a very reassuring peer group to get reviews from.  And that's not even to mention the typical gear rep, who looks like he might get lost in your local greenbelt without the aid of map and compass. Too often it seems they are all too willing to slap as many pairs on your feet as it takes for you to eventually just buy something in order to get the hell out of there.
Well, thankfully I actually got some awesome advice from a very, very knowledgeable rep earlier this year, and it made all the difference for my summer of trail running. There are few things that satisfy in the same way as a beloved piece of gear and I have found this to be especially true if that gear involves your feet. So, I decided to give a review about one of my favorite new pieces: the Brooks Cascadia 9 trail running shoe.
Cascadia 9 Overview
The Cascadia comes to us from one of the more trusted brands in running: Brooks. Brooks touts this particular model as "Born and raised to run the trail" and it is definitely more of a trail runner than a typical running shoe. Brooks' goal was to create a nice mix of all the features you like in standard shoe, while adding in the strength and durability to go off road.
They succeeded in doing so.
Since its release nine versions ago, this has become one of the most rewarded and talked about trail runners out there. In fact, Runner's World dubbed it their "Editor's Choice" in April of 2014. If that sales rep ever does manage to find his way out of the greenbelt, it is safe to say he is probably pitching this shoe.
Let's take a look at some of my (very subjective) grades that I gave across a few different categories.
Technology & Support: A+
As with any gear company, Brooks is only too happy to tout all their super-fancy technology that went into the shoe. To be honest, I am not even 100% sure what all of it means, but it certainly sounds impressive:
"Tackle tricky terrain with 4-point pivot posts that balance like an SUV's independent suspension system and protect those paws with the ballistic rock shield underfoot. No-sew construction brings comfort sans weight and a BioMoGo DNA midsole adapts cushioning to not only your feet, but also the surfaces of adventure. Enhancements like a slightly lowered heel and flat laces equip this next generation…"
Rather than trying to play the role of amateur podiatrist and decode all of that, here are the top six things I have come to love personally about this model:
Low Heel Profile: Unlike most approach shoes, the Cascadia keeps a low profile which makes it much more of a runner. It also makes it 'feel' much more natural to me, which can be invaluable on the trials.
Cushy Heel Box: The entire heel box of the shoe has just a little bit of extra padding around the heel. I love this. This extra cushion seems to be in just the right places and really makes a difference when you are miles down the trail.
Roomy Toe Box: Everybody's foot is obviously different, but I have noticed that while the shoe is true to size, the toe box gives a bit more spacing for the forefoot. This tends to matter as feet swell hours into a run and the space is a welcomed benefit. As a side note, the shoe also comes in a wide model for anyone with super fat feet.
Breathability: I seem to dunk at least one foot every time I go out. Thankfully, the shoe has breathed well each time and persistent wet feet have never been an issue.
Bulk & Aggression: The bulkiness and aggressive features of the Cascadia would make Goldilocks proud – it's just right. Unlike a lot of hyper-aggressive trial runners out there, the Cascadia seems to be smartly designed to put the added bulk and grit just where it is needed, without going overboard. For example, the treads underneath have plenty of bite for the trails, but they are not excessive. The soles and support are strong enough for any 4wd trek, but not to the point of feeling like you are running with weights on your feet. Even the lacing and tongue of the shoe have that perfect amount of 'oomph' without going overboard.
The Rock Plate: The Cascadia has a thin plastic rock plate that runs the length of the shoe to protect your feet. The importance of this cannot be overstated. It may feel like a small thing, but all you ever need to do is run on trials once without one of these to know just how much it can save your feet. Rocks, roots, boulders….all of it can be passed over with ease thanks to this plate.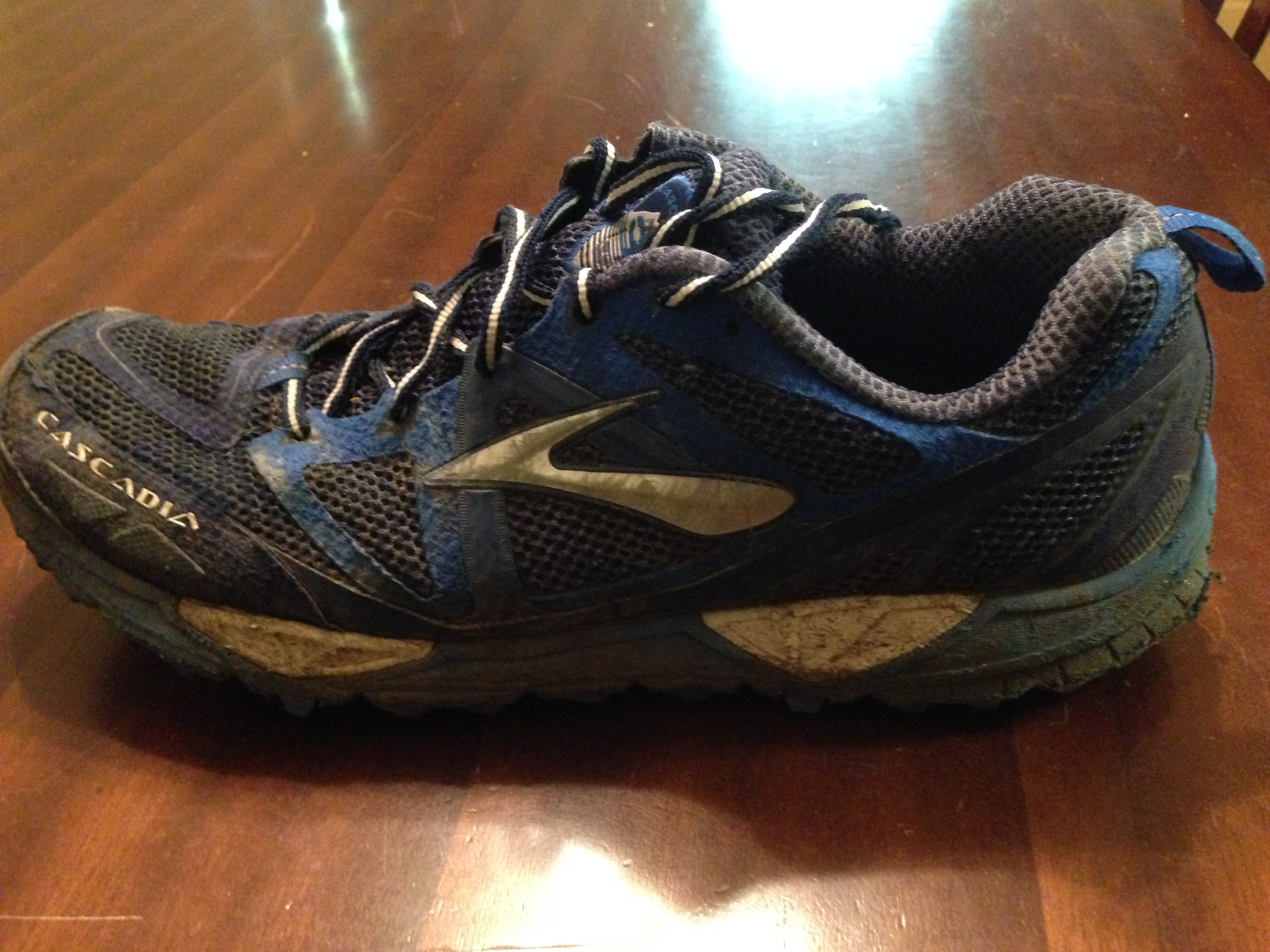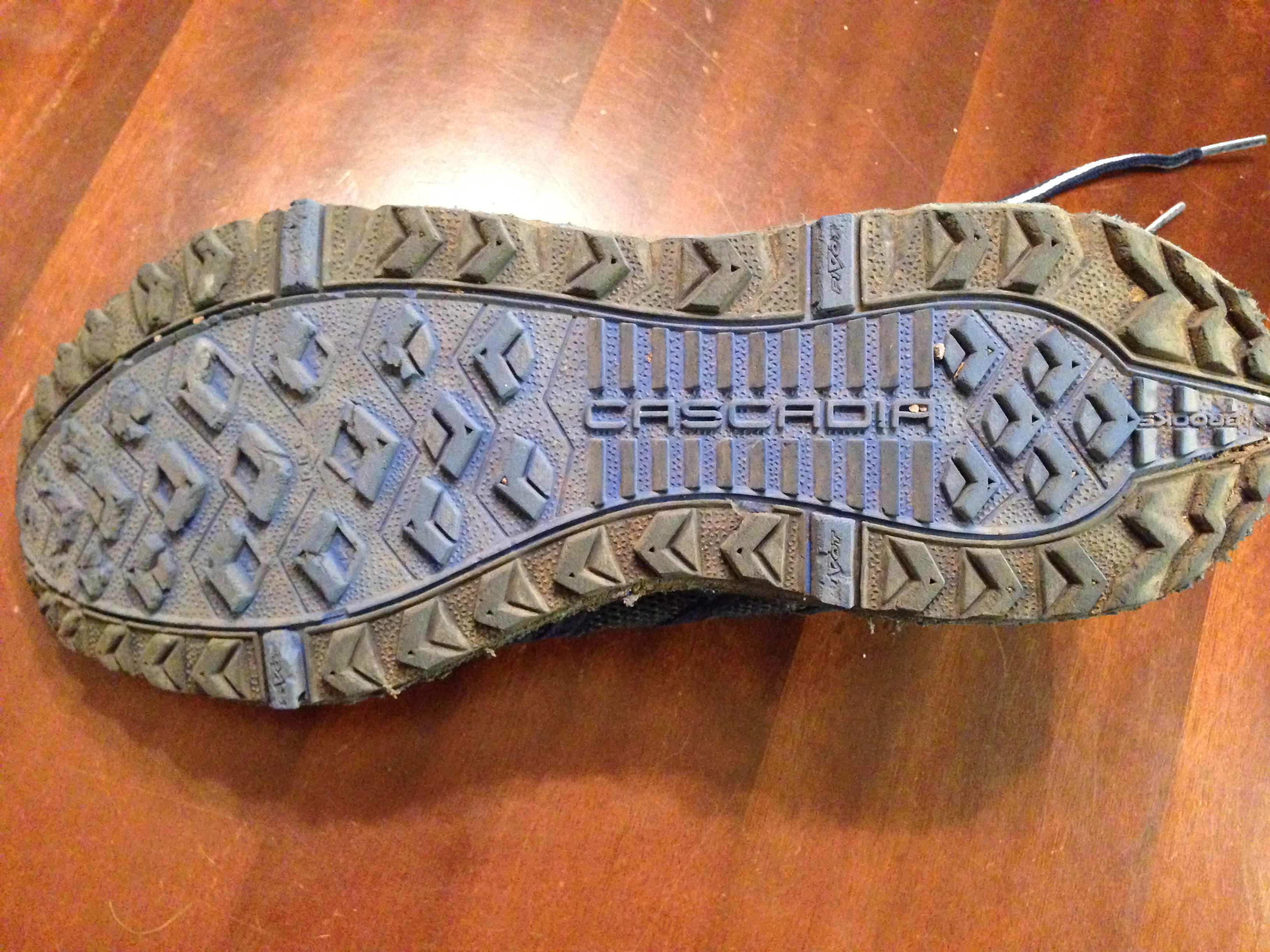 Terrain Capabilities: A
I have gotten the chance to use the shoe on a variety of different types of terrain. I have to say, in just about every situation, I have been impressed.
Easy Trails: No doubt about it, this is where the shoe really shines. The Cascadia has the unique and awesome quality of feeling like a running shoe on the trails, while giving juuust enough extra support to make you feel like you can really attack the ground. At 11.7 ounces, the weight feels perfect for gliding up easy trails, but the reinforced soles offer plenty of protection from the odd root or rock poking through.
Road Running: When I first got this shoe, I took it out a few times on the roads just to break it in. The feel was just about like any other typical running shoe out there, which was a welcomed surprise. A bulkier approach shoe often comes with a lot of baggage underneath, so it is nice to know that these shoes can easily make the switch from trail to roads.
Scrambling: This might be my favorite use for these. Approach shoes are obviously a tried and true favorite for scrambles, but I have always found myself wishing I had just a little bit less shoe when dealing with class 3 or 4 terrain. The Cascadia has scrambled well for me wherever I have taken it and offers a more 'intimate' feel with the rock. I have scrambled up class 5 routes in these and felt completely confident doing so.
Scree and Loose Talus: As with any low ankle shoe, this is one area that leaves something to be desired still. Side-hilling or wandering through loose talus is not ideal in anything that is not a heavy duty hiking boot, and that is a trend this shoe is not going to overcome on its own.
Backpacking: I have not actually taken this shoe on a long backpack as it is not exactly what it is for. Brooks is quick to give a disclaimer that it is not ideally designed for this, but I am actually inclined to disagree. I am not sure I would want a 50lbs+ pack on my back with it, but I do feel at least fairly confident that they would hold up to a moderate multi-day outing, which might be ideal if the ultimate goal of the trip involves a scramble.
Durability: B+
I have probably not logged quite enough miles on my pair to accurately know the durability. At approximately 100 miles in, it is a bit too soon to know for sure how well they will hold up in the long-run.
However, for where I am at, I can report that I have seen no major issues or overly concerning wear and tear to this point. This is especially impressive given that I tend to find water, mud, dirt, and rocks virtually everytime these go on my feet. They have been a workhorse thus far.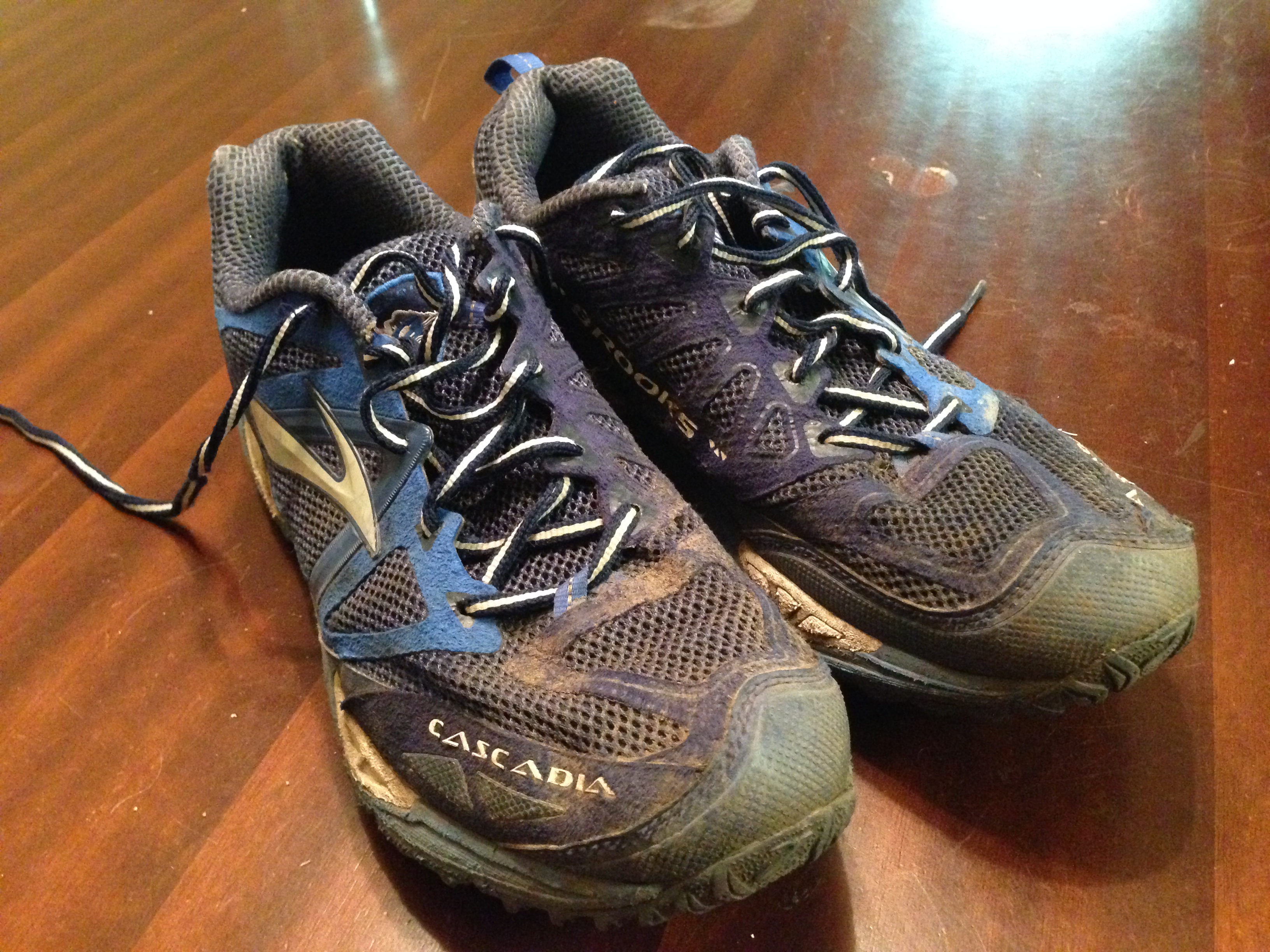 Stability vs. Motion Control: (Depends on your stride)
Any trail running shoe is bound to focus less on pronation issues as the added bulk and support tends to even everyone out. It is virtually impossible to know how anyone will like the shoe without knowing his or her unique stride, but what we can do is know what it was designed for.
The Cascadia falls somewhere between a neutral and motion-control model. This means that people who are neutral or over-pronators will do well here. I am about as severe of an over-pronator as it gets, yet I have never had any issues with mine. Part of this of course, is due to the fact that the trails tend to be so erratic that they often mask the need for a very specific shoe-to-stride match.
Price: B+
At $120, these run a bit more expensive that the average running shoe, although they are pretty comparable for everything else in the category. Still, if you ever pay full retail for any piece of gear, you have no one to blame but yourself.
Owing to their popularity, these guys can be bought at virtually any major running or mountaineering shop. If you are able to wait for the odd 20% off coupon or a major sale, you can easily get them as cheap as 80 bucks.
Peer Reviews: A+
This is one of the most lauded over and raved about shoes on the market, and with good reason. Across the web the Cascadia has won all kinds of awards from the running community. Perhaps its best achievement was the high praise it garnered from Runner's World magazine, who called it "a workhorse". They went on to note that, "it provides a supportive yet flexible ride on diverse trail surfaces and is great for running on snowy pavement….. not to mention it looks as good with jeans as it does on singletrack trails."
The Bottom Line
If you are looking for an all-around great trail runner – then there is really no need to look any further. This shoe is a tried-and true haus which has been reviewed and approved by the best out there. It offers the perfect blend of being rugged and tough enough to withstand any trails you could throw at it, while simultaneously being light and nimble enough to quickly churn through the miles.
As I said at the beginning, when you find the right piece of gear for your feet, there is no reason to ever go back. Give these shoes a dozen or so miles on the trail and I am confident you will feel the same.