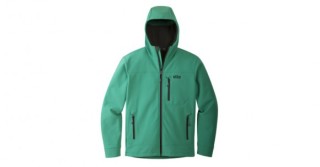 I've been in the market for a hooded softshell that can bridge the gap between burly inbounds jacket, breathable and functional touring jacket and something to wear around town when the weather gets a little brisk. After years of searching, I think I've finally found the right match in the Stio Vescent Softshell jacket. But first, a little background on the jacket and on Stio as a company, as it too, has been a gear company I've been waiting for quite some time.
Background
In 2007, I stumbled upon a nice looking, versatile "fleece" on the clearance shelf at REI with a Cloudveil logo on the chest. It was referred to at the time as the Cloudveil Gridlock Fleece with Windstopper technology that was used for the better part of 5 years as a do-it-all jacket in all seasons. I also owned a Cloudveil Koven "Hardshell" that had an innovative "Cloudburst stretch" material that gave it the feel and function of a softshell, but also contained the waterproofness of a hard shell with pit-zips. It seemed like the most versatile piece of gear on the market at the time. Unfortunately, Cloudveil as a company couldn't find enough of the right niche, and eventually, after shutting their doors at the Flagship store in Jackson and changing hands between one ventured capitalist after another, the present company is a shell of its former self with offices somewhere in New England and a much smaller lineup of clothing.
Fast forward to 2012 and the same founder of Cloudveil – Steve Sullivan – has developed a new venture called Stio. With a flagship store in Jackson and an online catalog, the company seems to have similar foundations as Cloudveil, with the same emphasis on functionality. It's been said Cloudveil was the original creator of the softshell jacket, with the launch of the Serendipity and it's Schoeller fabric (considered to be some of the highest quality softshell material on the market – at the time). I knew from past experiences, Cloudveil had tailored towards a slightly roomier fit, as opposed to those companies that cater to those who are rail thin, so I was confident that the Stio Vescent softshell would be a solid candidate for my needs. After reading a positive review from the GearInstitute.com, I ordered and haven't had one regret so far.
Manufacturing
The Vescent softshell is apparently made in Canada (as opposed to some of its other products, which can be made in China). I've been a fan of finding fresh new companies like Stio, cause early on they tend to make the majority of their products in North America and have better customer service while they earn a following and grow the company. Now to be honest, I don't really even know what that means when a product is manufactured on this side of the continent, other than what I know about Chinese labor, and I guess that's good enough for me. Besides, Canada is the maker of stuff like Halls cough drops, Swedish Fish and the majority of the world's scratch cards. They also make high quality road bikes and submarines, so I figured they can probably make a pretty good softshell jacket as well (unless Bob Probert is running the assembly line).
Functionality
The shell is made with a Sphero XT softshell technology, with a 85/15 Nylon/Spandex ratio which means stretchy but not a rubber band. Its thicker than most softshells in its class, but not too thick, and more importantly, not too heavy either (weighs in at 22oz). From a waterproof perspective, I've used out in light rains around town and some flurries in the hills for the last 2 months, and have remained dry, thanks to the DWR finish. With that being said, after prolonged exposure to constant light drizzles, the water stops beading up and was beginning to penetrate the exterior of the fabric, so I would not trust this in anything more (but then again, thats not why people buy softshell's anyway). The hood isn't exactly helmet-compatible, but if the helmet is small and aerodynamic enough, I could see it fitting. It would definitely fit over a climbing helmet and of course a hat. Lastly, there is an internal microfleece for insulation and element-sealing purposes, as well as some cool looking zippers with the pine cone company logo on them.
Style
I realize people poo poo on "styles" with regards to outdoor gear that is supposed to be functional, but I think Stio does a good job of creating a happy medium. A lot of companies are creating "loud" colored garments as they cater to the Me Generation, with all sorts of crazy, made up colors (Patagonia has one called "Chartreuse", which isn't made up, but highly fruity). The Vescent jacket currently has 2 neutral colors : Eiffel Tower (which is grey) and Reflecting Pond (which is ocean blue). Its got a chest pocket and 2 side pockets. Some get butt hurt when the side pockets aren't compatible with a pack, but I don't use this for alpine climbs and when skinning, all you gotta do is unbuckle the hip belt and wa la. I used to get butt hurt myself when a jacket didn't have pit-zips, but I think this one is breathable enough to get away with it. The articulation, at least for my build and needs, is more than sufficient. Its not baggy, but you can certainly layer underneath. I generally have a long sleeve and a light down sweater (think Montbell UL Down, a Patagonia down sweater would probably fit as well). I'm 5'11 195 with a 36″ waist and a Large fits perfect.  The interior fleece liner on the Eiffel Tower (Grey) model is yellow with an ocean blue zipper. The Reflecting Pond model is just blue all around. It's, personally, the most comfortable jacket, outside an 800-fill down, I've ever owned.
Usage
I bought the Vescent for year round use. Its roomy enough to layer down sweaters underneath on cold inbounds days, breathable enough to use on just about any spring day (I'm partial to hooded softshells in the BC for a number of reasons) and its "stylish" enough to wear around without having to be labelled "Patagucci". Its truly a "jack of all trades".
Price
Most jackets in this class of hooded softshell are in the 225$ to as high as the 350$ range, so at 195$ retail, it's a very good deal.
Summary
Pound for pound, this hooded softshell ranks up with the best of them for year round, versatile and dependable usage. It'll be interesting to see how Stio does in the highly competitive world of outdoor gear, where a lot of brands kind of blend in to each other. Cloudveil was an innovative company at the time, and Stio seems to have hints of this in their current line. Price points and numerous changes in ownership seemed to kill Cloudveil, hopefully Stio will find a niche and avoid the same fate. I'll be watching (and testing) closely.