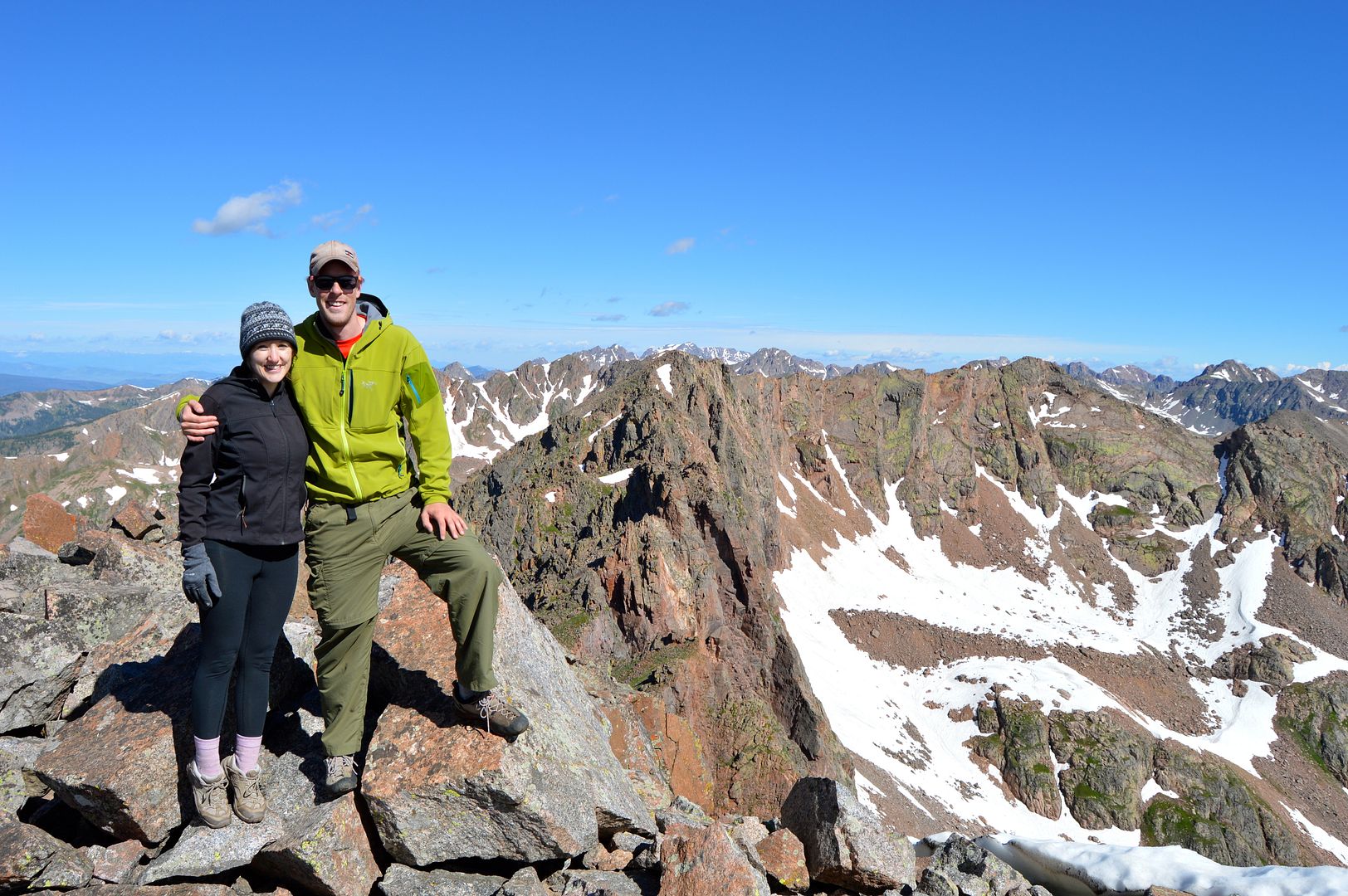 Author: Katie Yarian (AKA: Mrs. Zambo)
Climbers: Zambo & Katie
Peaks:

Both: "Grand Traverse Peak" (13,041′).
Zambo: "Palomino Point" (13,060′), "Valhalla Mtn" (13,180′), "Snow Peak" (13,024′)

Route: Via Deluge Lake & south slopes; Grand Traverse Pk > Snow  Pk Traverse for David
Distance: Approx 13 miles
Vert: Approx 5,850 feet
Round Trip Time: Two days, One Night
It had been far too long since David and I had gotten out together for a backpacking camp trip…two years ago we were backpacking in Patagonia and Spain, and I'm not sure I had been out "true-camping" since then! It was well past overdue and David organized a small weekend trip for us outside of Vail up to Deluge Lake in the Eagle's Nest Wilderness.
We left Saturday morning around 8:00 – made a few quick stops for camp food, getting a headlamp back from a friend, batteries for said headlamp, string for dem bears, and Subway sandwiches before making it to the trail head by 11:30.
Not wanting to waste too much time, we opted to stow our lunches and get started right away.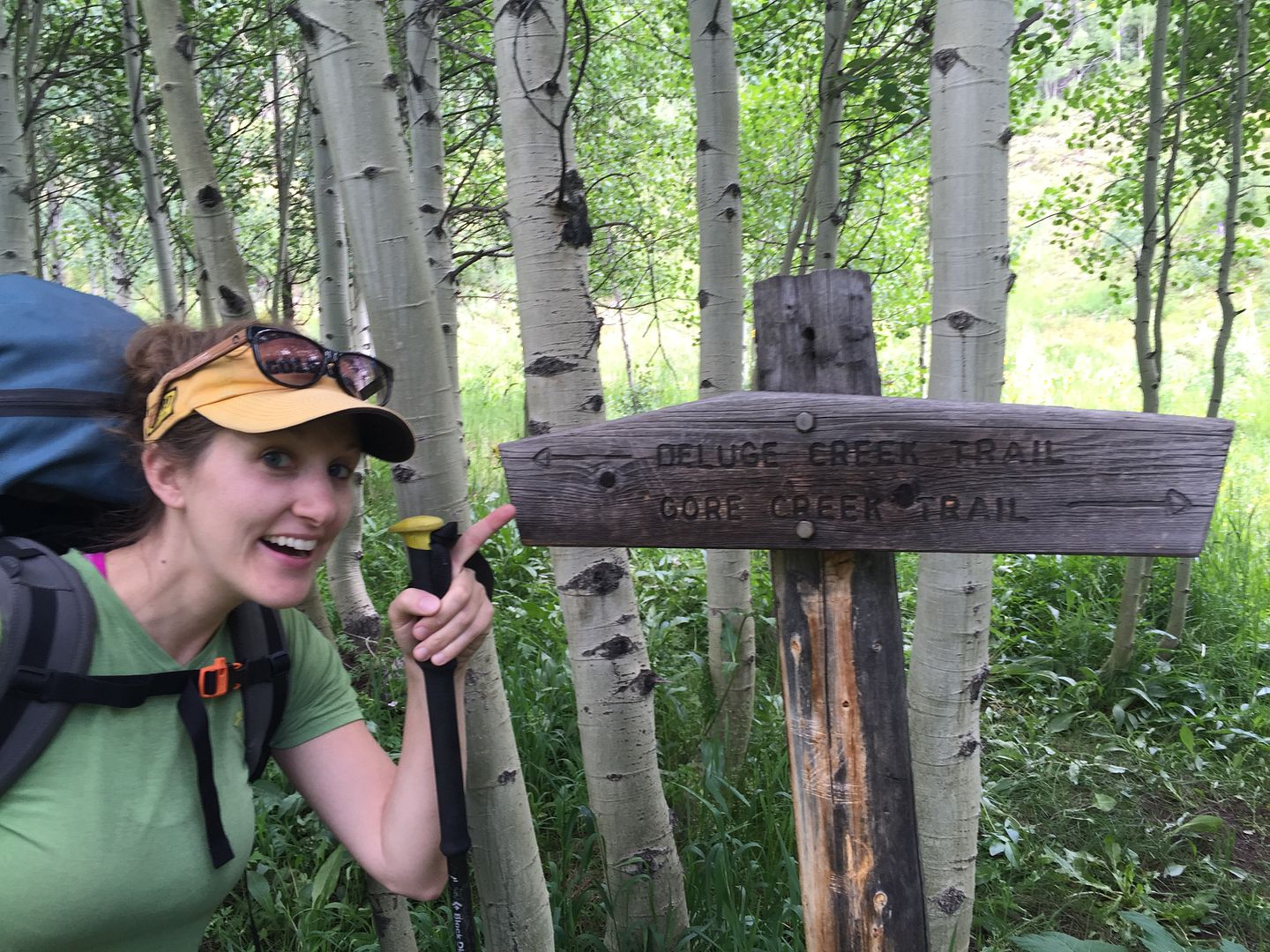 David is always good to let me lead the way so we can go at my pace. When we originally looked at topos we thought we would be going up the Gore Creek Trail for a mile and a half before turning to go uphill – I was glad to have a slow/easy start to warm up.  However, once we got to the trail head, we realized the trails actually split just beyond the parking lot…meaning no slow & easy warm up for me.  The trail ascends pretty steeply through Aspen groves, and there were thousands of beautiful wildflowers everywhere.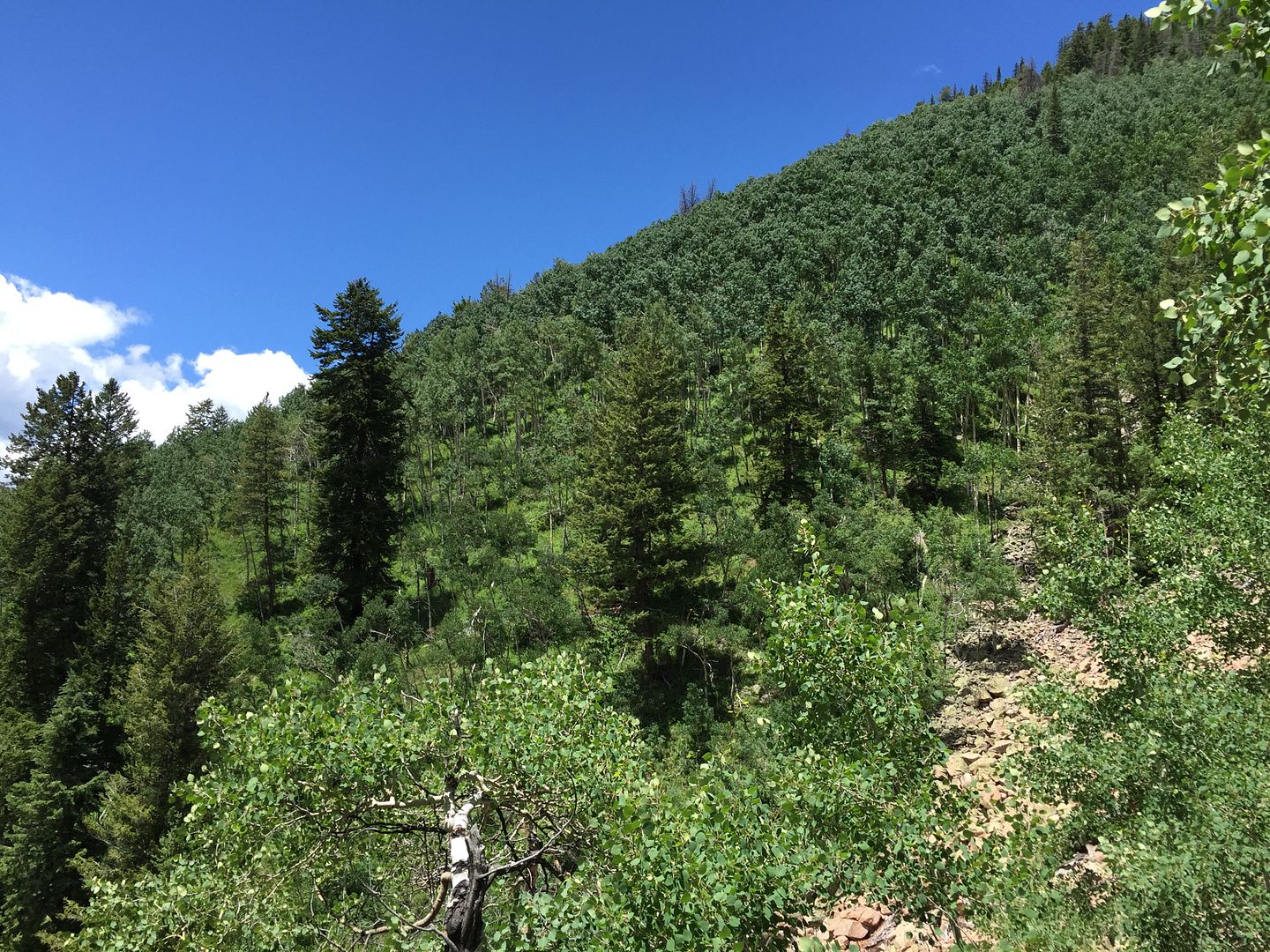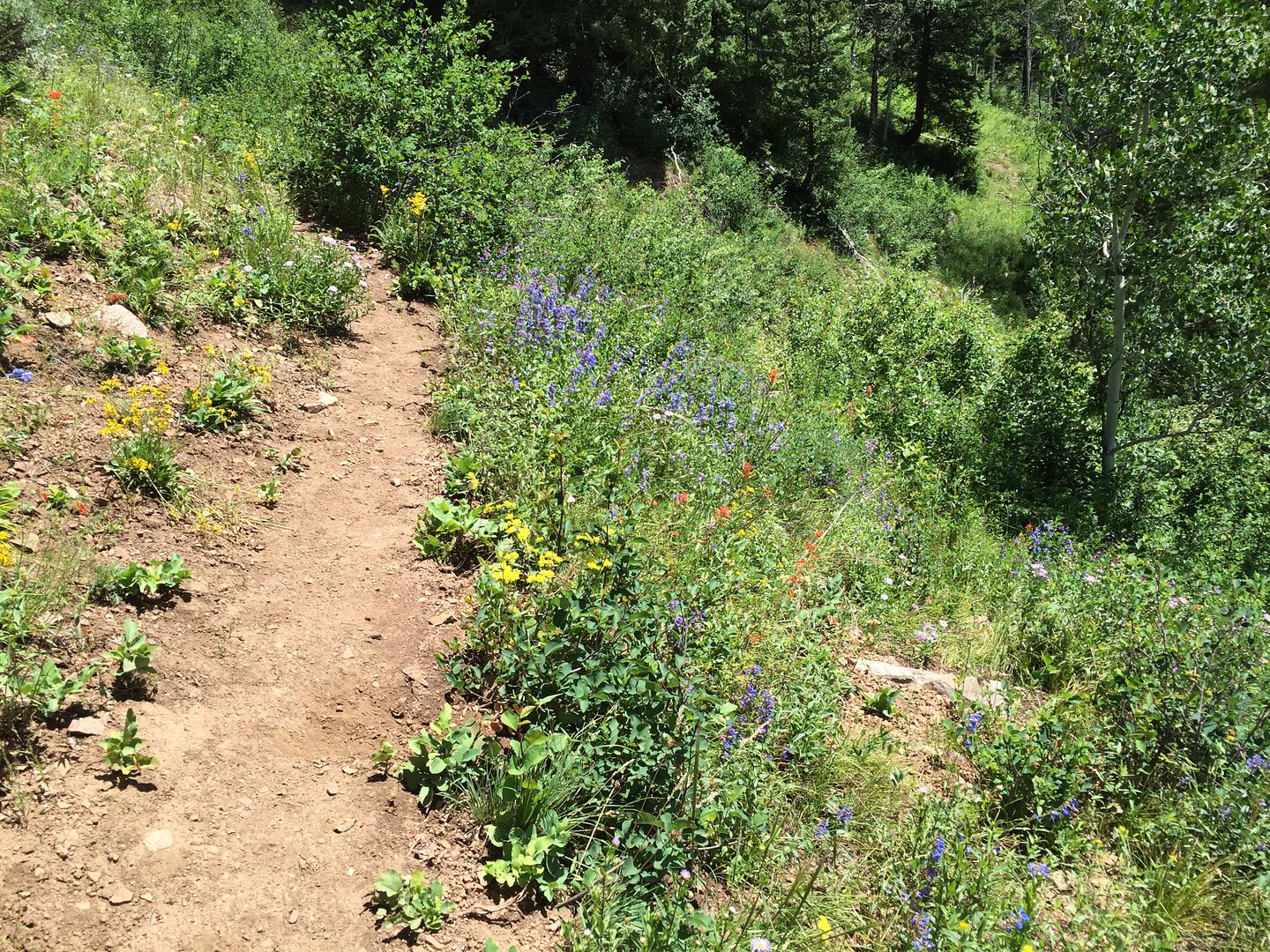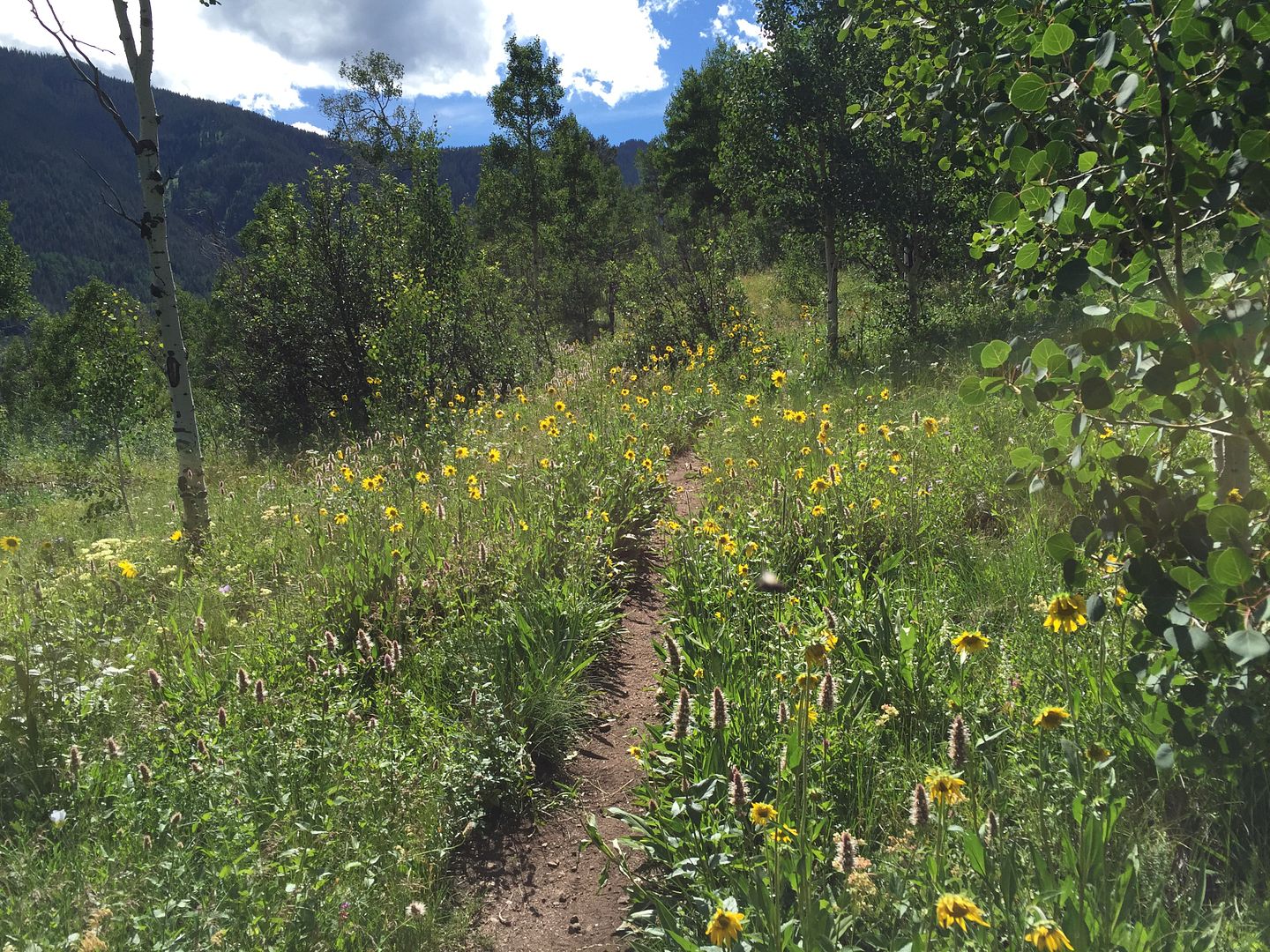 I almost stepped on three snakes and a mouse – yeesh, my favorites 🙁 It was slow going for me, but after about an hour in, we stopped for lunch which was a perfect re-charge break for me.
After another hour of hiking, the aspen trees gave way to huge evergreens, and the narrow, dirt path became a soft forest bed – the forest created a cool reprise from the hot sun we'd had beating down on us for the first half of our hike. And the trail became much less steep from that point forward, and the scenery much more interesting, so the second half went by really fast comparatively.
After an hour, the forest cleared into meadows, and we began looking for a campsite. The clouds were starting to get a bit ominous, so I started feeling worried about if we were going to be able to set up our tent before the rain came. Also, having seen a lighting-tree just a few minutes before, it gave me extra cause for concern…
We ended up finding a designated camp site – perfect space for tent, a pre-built campfire ring, and a few fun mining relics left behind that made for perfect camp stove perches.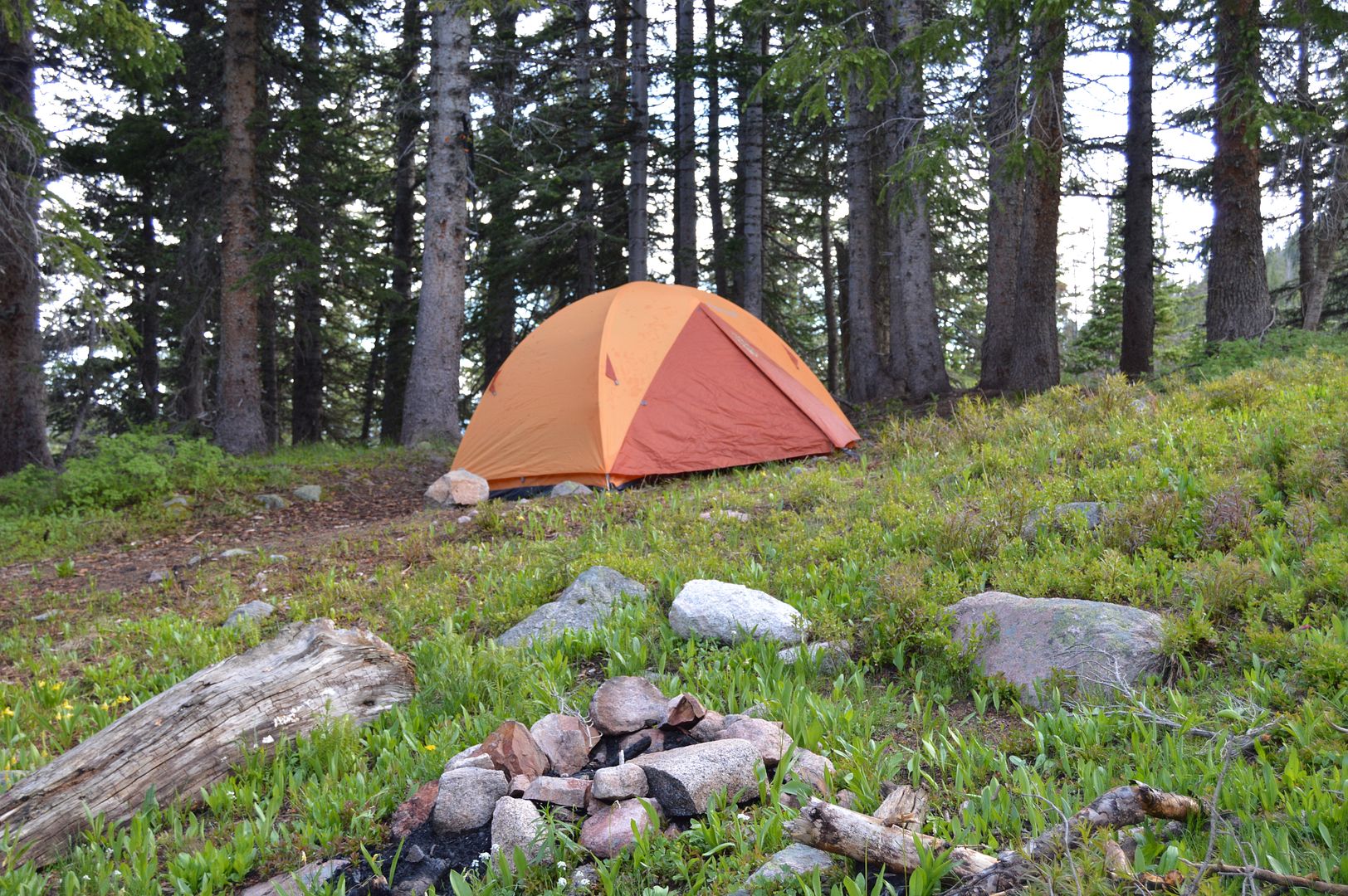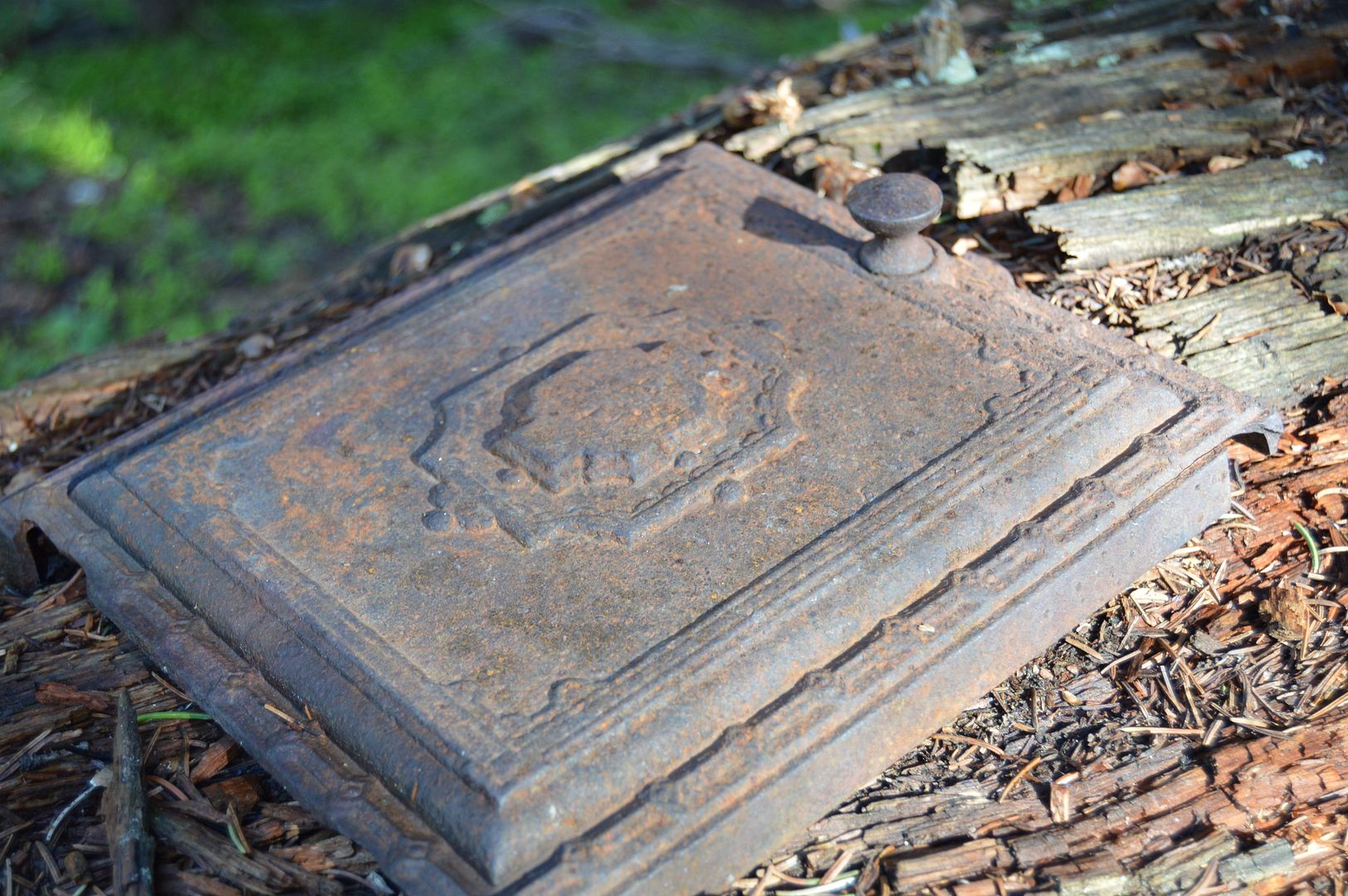 Luckily, we found the site and set up our tent just as the rain reached us. We hurried to finish bringing out equipment under the safety of the fly, and then started making ourselves at home away from home. I love this part of camping. Once everything was put away, I changed into clean clothes and cozied up in my sleeping bag, reading a book. David did the same with his map. Of course, it didn't take long for our eyelids to get heavy, and our books and maps to close, and we had a little snooze.
The rain didn't last too long, and thankfully, there wasn't any thunder, lightning, or hail, so we emerged from our tent an hour and a half later to find mostly cleared blue skies and went to filter water, collect firewood, build a fire, and prepare our dinner: ravioli & marinara with hot chocolate for dessert! Mmm…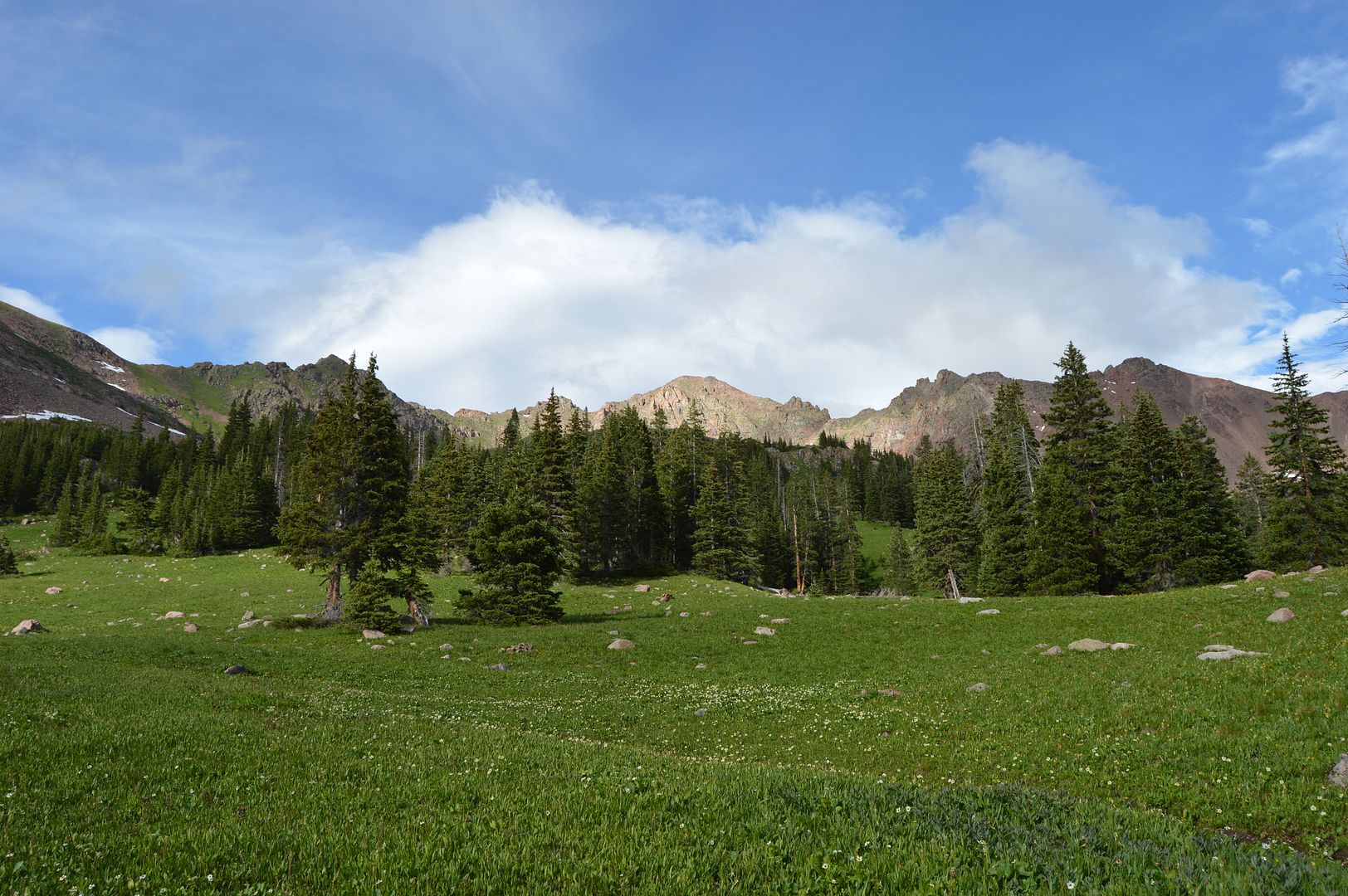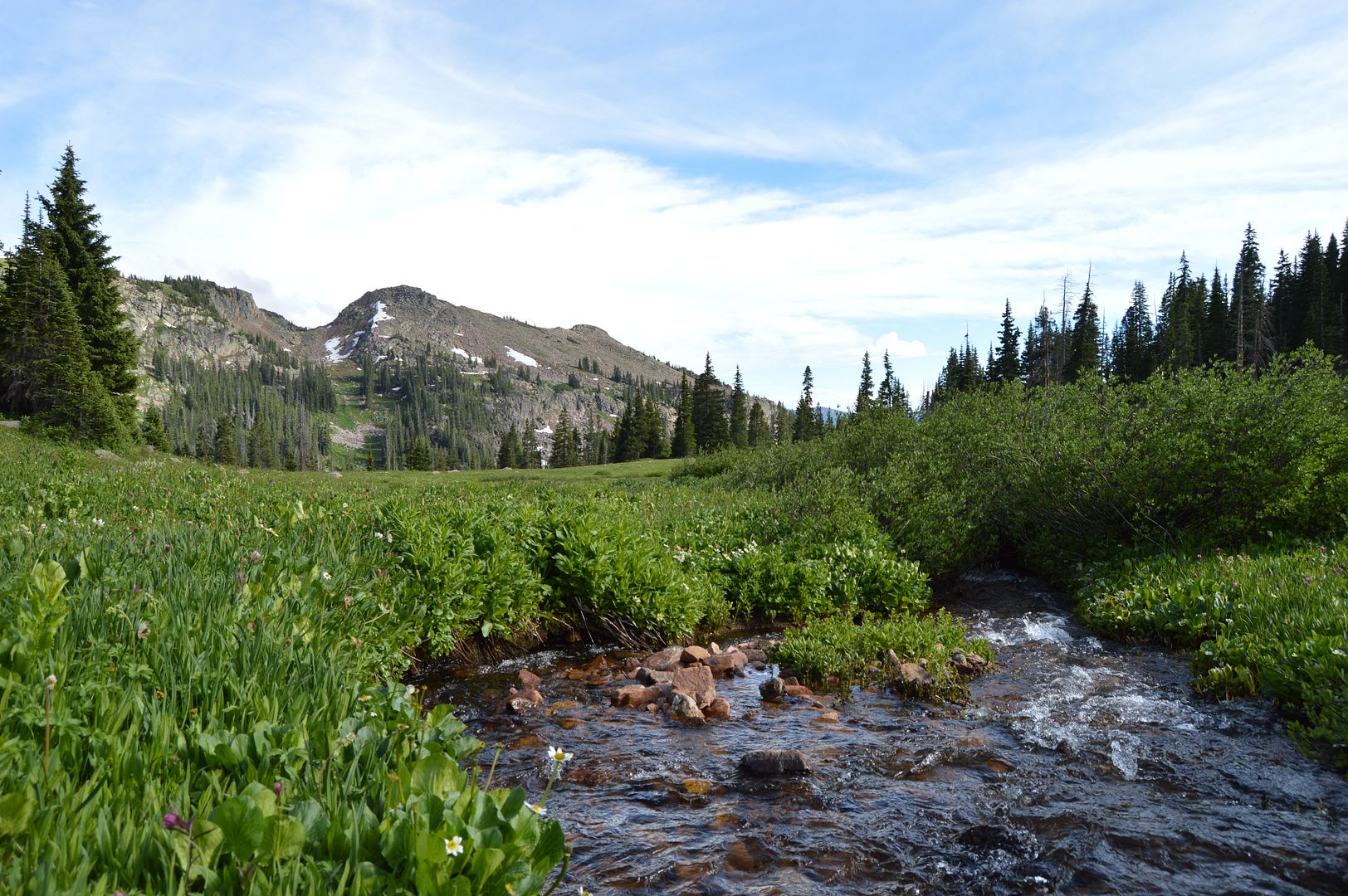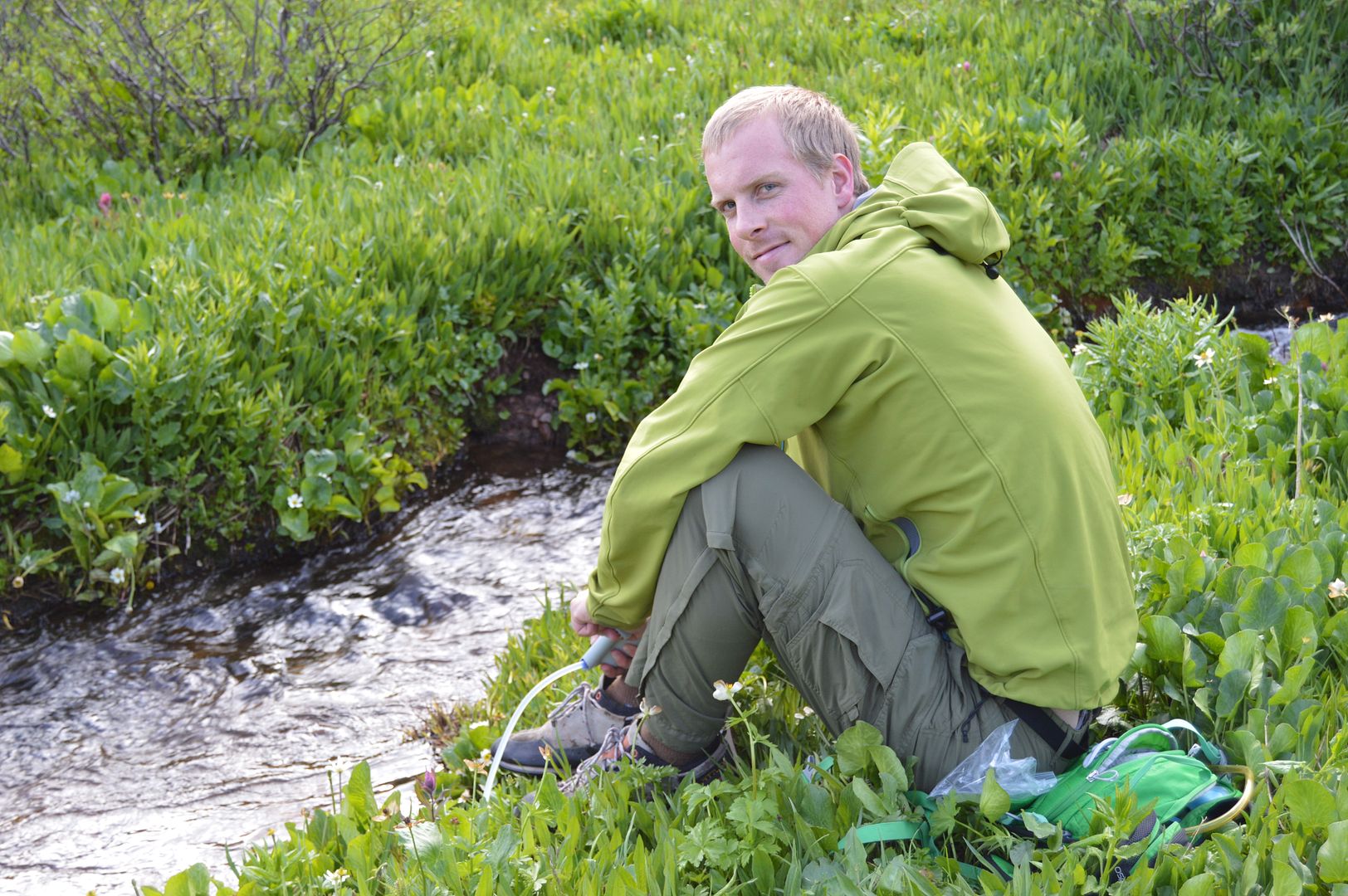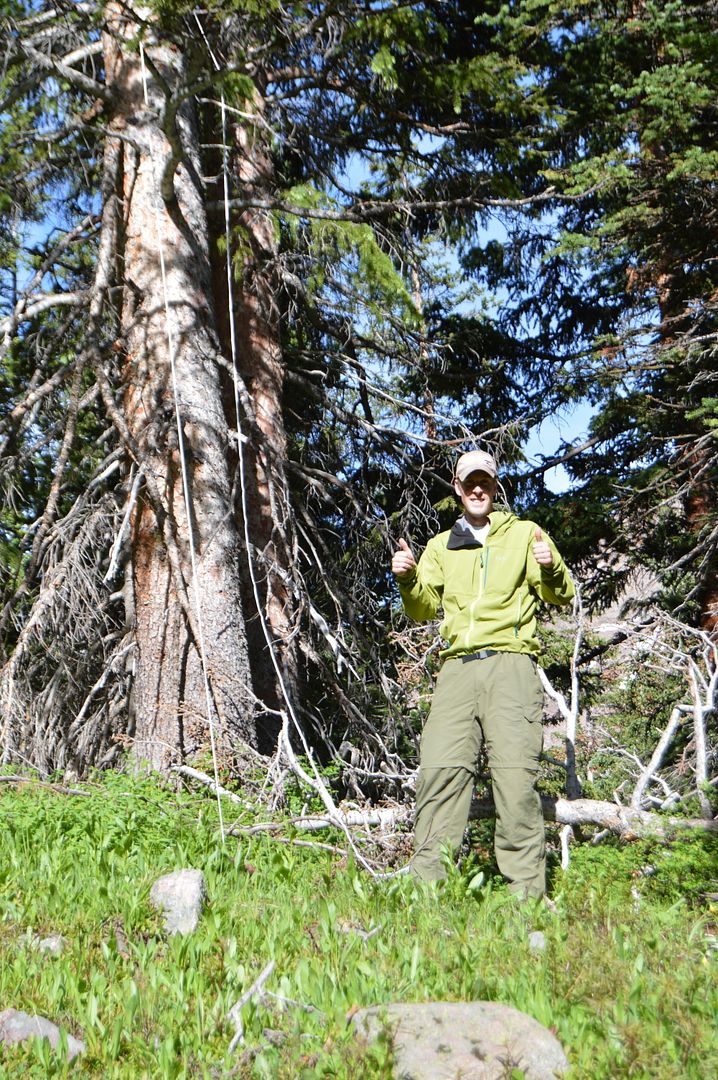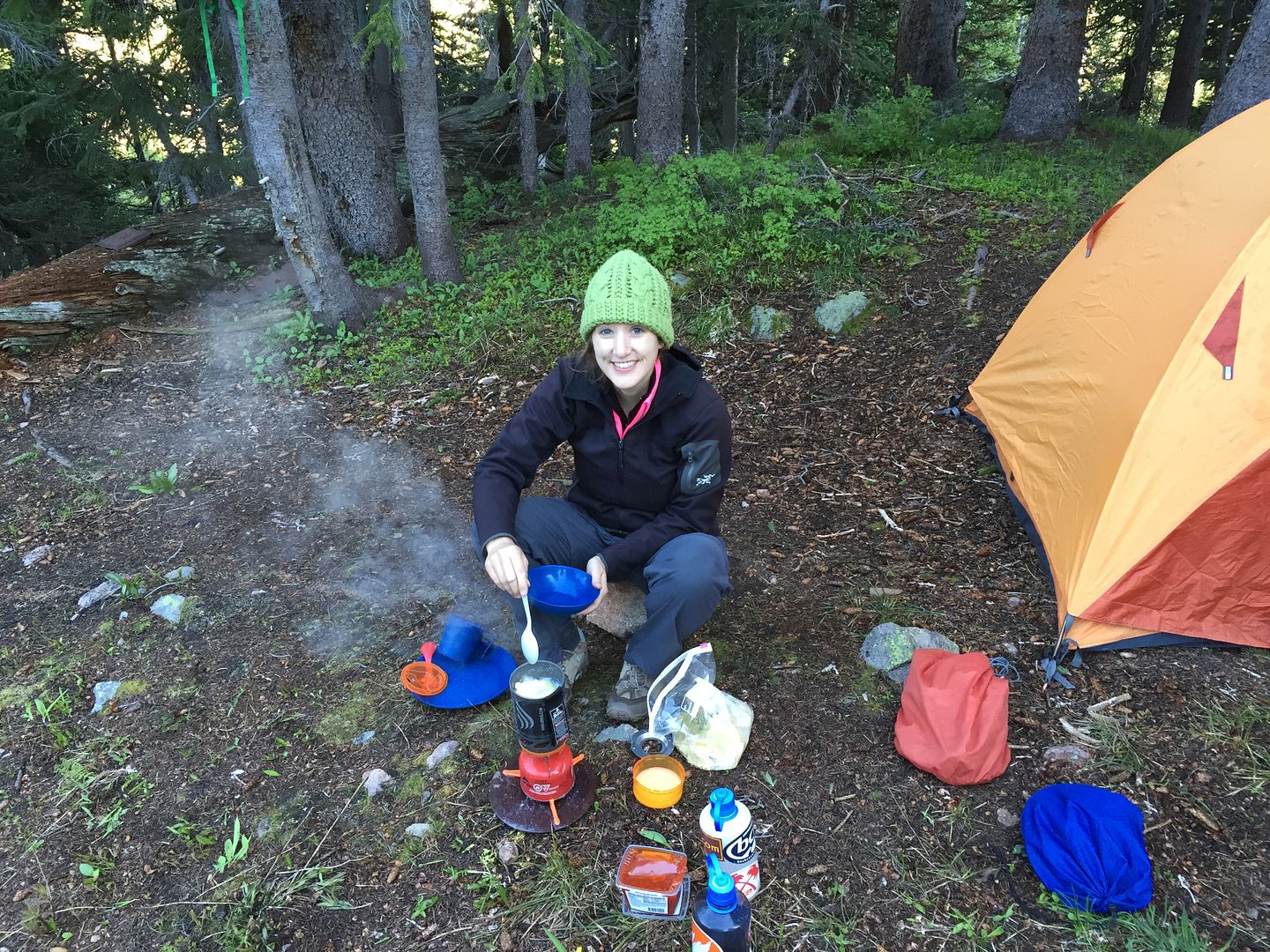 We enjoyed the peace and quiet of the meadow, watching the alpenglow on the mountains as the sun set.  There was also an odd little rain shower – the clouds were moving so quickly the rain came down after the clouds had passed overhead.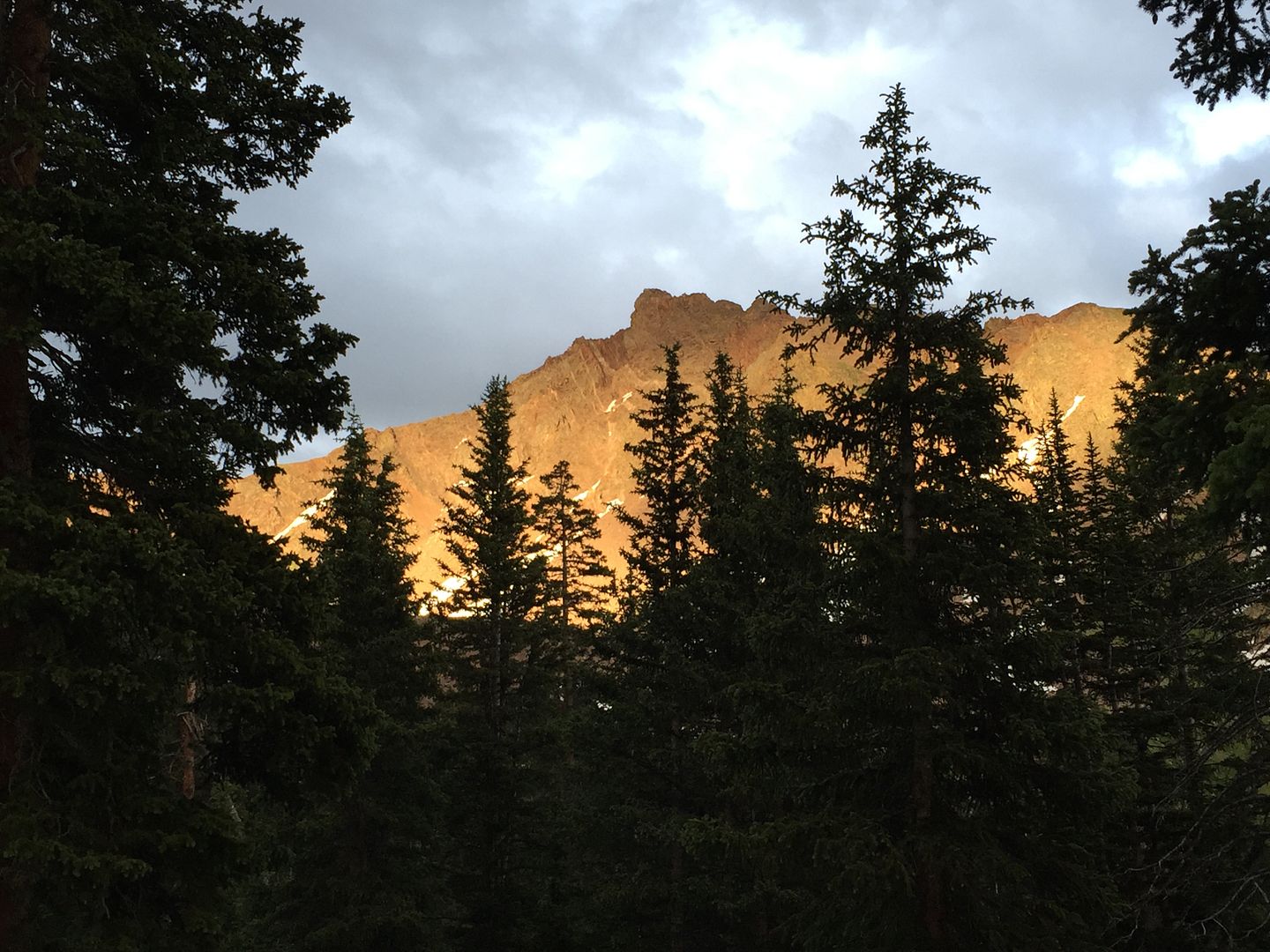 We went to bed pretty early, but ended up having a tough night's sleep – several times, coyotes woke us up with their eerie screams and shrieks and howls…a very unnerving sound when you know you are in the middle of nowhere. The basin amplifies the sounds, so you would have no idea if they were a mile away or 50 feet away…at least when you are 'blind' in the tent! Between the spooky sounds, and my sleeping pad deflating, I did not wake up feeling well rested the next day at all!
We ate breakfast (oatmeal & hot chocolate), packed a day pack for the day, and got started before 8:00. We were going to climb a 13er together (Grand Traverse Peak), and then David was going to scurry over to two other peaks in the basin while I descended back to camp solo. The start up to the Lake was surprisingly tough on stiff and sore legs. Without having an easy warm up, my heart rate and breathing were so labored I was worried if I was going to make it to the summit at all. I have a history of altitude sickness, so that is always a fear of mine, so I think I had some nervousness as well. We made it to Deluge Lake, and took a few minutes of "recovery" from the early morning climb. (I am embarrassed to say that it took about 10 minutes to walk down the path from the Lake to camp later that day and I think it took more than a half hour going up that morning!)
The lake was beautiful. It reminded us of Patagonia – alpine lakes with snow and ice in the middle of summer, with peaks all around. There were wildflowers all around, and in the distance, you could see Holy Cross with snow in its couloirs. The sun started to emerge in the basin, which helped to take some of the morning chill away.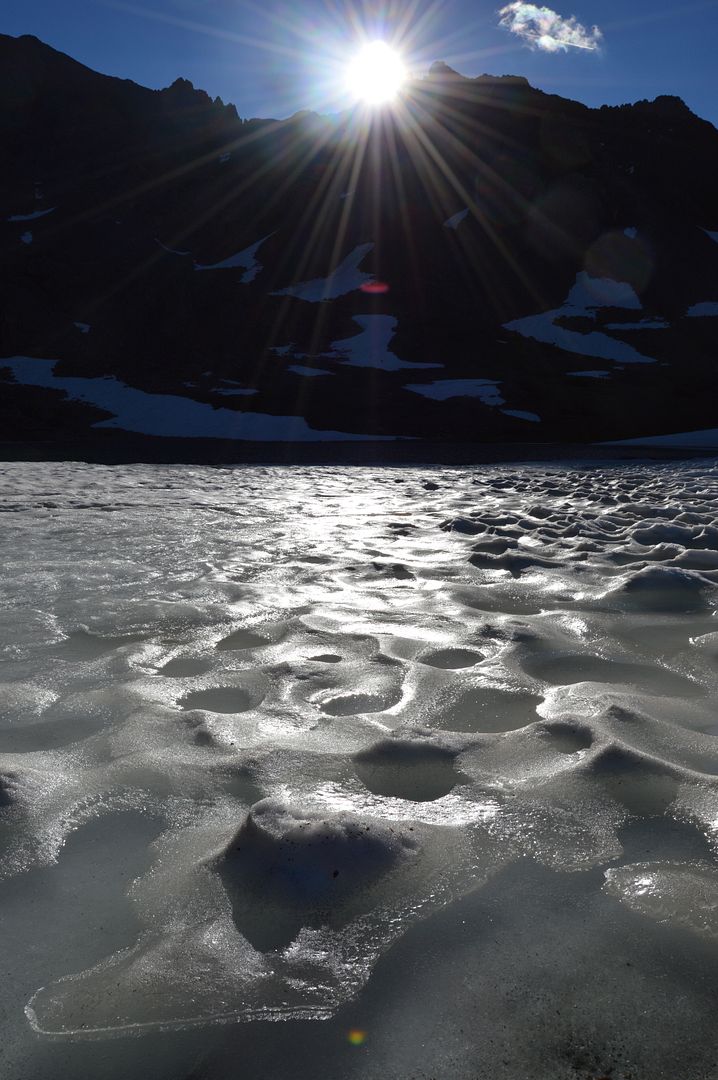 As we finished crossing the lake, I still felt nervous and didn't feel great or hopeful about getting to the summit, until I felt an urge for #2. Yes, that kind of #2. David suggested moving a few rocks from the scree field but it felt a bit too, ahem, exposed, and so I opted for the Willows. Without going into too much detail, suffice it to say I felt a lot better. A new woman!
With a renewed spirit, with the views continuing to get more and more amazing the higher you climb, AND seeing a pair of climbers who were steadily gaining on us despite starting an hour later, gave me the motivation to push through the tiredness and labored breathing to keep going.
Surprisingly, there were a few other climbing parties on the summit when we arrived (yes, including the ones who had gained and passed us) and even a few dogs – most were locals to Eagle County. And all 4 parties either ascended or were descending in different ways – I guess the Gore Range tends to get a more authentic mountaineer community since it lacks the list-peaks (14ers or Centennial 13ers). I felt really proud of myself for making it all the way to the top – it was challenging for me, but well worth the effort. We didn't stay too long, but we walked together to the saddle before David went to climb the other summits.
I took my time down the scree field – the views were outstanding the whole way, but I hate walking down scree. I hate it so much I made up a song about it. I'm not even kidding, these lyrics came to my mind in perfect rhythm and rhyme as I was walking down, to a tune none other than "Barney & Friends":
"I hate Scree,
Scree hates me,
There's no other way to climb down, you see.
So I'll take one step and slide a foot or two,
Next time, Scree, I'll poop on you."
BELOW: The tune in question for anyone who may have forgotten. 🙂
I was laughing so hard, singing and re-singing the tune I had just made up. It made the scree far more enjoyable and go by a lot faster, too.
But I digress…here are more of those incredible views I was talking about:
I took some time to sit by the lake, which was toasty now that the sun had been out a while, and then spent a little more time by the cabin – taking pictures and feeling so very Swiss. I eventually made my way to the path back to the tent…that was when I was ashamed to see the climb that had me so exhausted first thing this morning took no more than 10 minutes to get down. Oh well. Guess it means I better keep getting into shape!
I ate some food, drank more water, and laid down until David got back around 1:00. We packed up camp, ate some Nutella Roll-Ups for lunch, and put our packs on for the hike out. I am a MUCH happier hiker when going downhill, so we had a great time working our way back. Once down the trail (almost half the time it took us going up), we loaded up and drove to my parent's cabin in Silverthorne for showers and rest before driving down for the work-week that evening. My parents were up there as well, and we got a chance for a really nice catch up with them, too.