To give credit where it's due, the idea to go for Mt. Massive came from my friend Eric and his dad Steve. The two have been ticking off winter 14er summits for some time, and Massive was first on their list for this winter. Preferring more of a siege style of mountaineering, Steve and Eric planned to head in on the 26th, camp at treeline, go for the summit on the 27th, and deproach on the 28th. Unfortunately I was tied up on the 26th so the overnight plan wasn't an option for me, instead I managed to rouse an old winter partner of mine in Kiefer to join me for a single day ascent on the 27th. Kiefer and I had hopes of catching up with Steve and Eric so we could join them for a portion of the ascent.
We pulled into the Fish Hatchery at 6:45am under clearing skies. The clear weather was somewhat of a relief as we had driven through a practically constant snowfall from Georgetown to Copper. The forecast called for temperatures in the 0 to 20 degree range throughout the day, with winds kept in check under 20mph. We geared up and started the day at 7:15am. The initial portion of the route heads south from the hatchery along a road that winds its way to the start of the Highline Trail a few miles in. This road was snow covered so I was able to skin from the parking lot, Kiefer on the other hand chose to keep the snowshoes on his back for the first few miles.
This section of the route sees a lot of cross country ski and snowshoe traffic, the result of which is a well packed trail. Some lively conversation (with Kiefer it usually is) had us to the Highline Trail fork in no time. We came around a corner and found a few beams of sunlight penetrating down to the forest floor and a crisp sheet of snow stretched out before us, and I remember thinking, Heck yeah, this is what winter is all about.
The Highline also sees a descent amount of traffic in winter, as evidenced by the well defined trench in the next photo. Kiefer and I weren't complaining about our free lunch…
Once we started to gain some substantial elevation Kiefer and I found ourselves tearing off clothing, we were getting a harsh refresher on winter body temp management. A lot of stopping ensued, but we continued to make descent time up the trial nonetheless. At the two and a half hour mark we reached the intersection of the Highline with the Colorado Trail at 10,960′. Past this intersection the route breaks above treeline for the first time, an often much anticipated moment on Sawatch approaches.
We came up to a highpoint along the trail and viewed the East Ridge route up close. From there Massive's summit still looked pretty far away.
A mandatory drop back below treeline brought us to some frozen lake features which I believe transition into marshes in the summer. We contoured around these to the south and continued towards the base of the East Ridge. By now the well defined trench had petered out to a faint outline of Eric and Steve's tracks from the previous day – the wind and five inches of overnight accumulation almost succeeded in erasing all traces of their passing. Although more breaking was required, we were still graced with a free road map through this section as the outline of their tracks never completely disappeared. It's little luxuries like this that make a big day more manageable.
Eventually we came across Steve and Eric's camp…
…beyond which we were once again blessed with a freshly cut trench:
Now officially on the East Ridge, Kiefer and I contemplated where to leave the skis and shoes. We ascended a few hundred feet to a flat spot and decided to stash em, reasoning that above this point we would deal primarily with talus and windboard.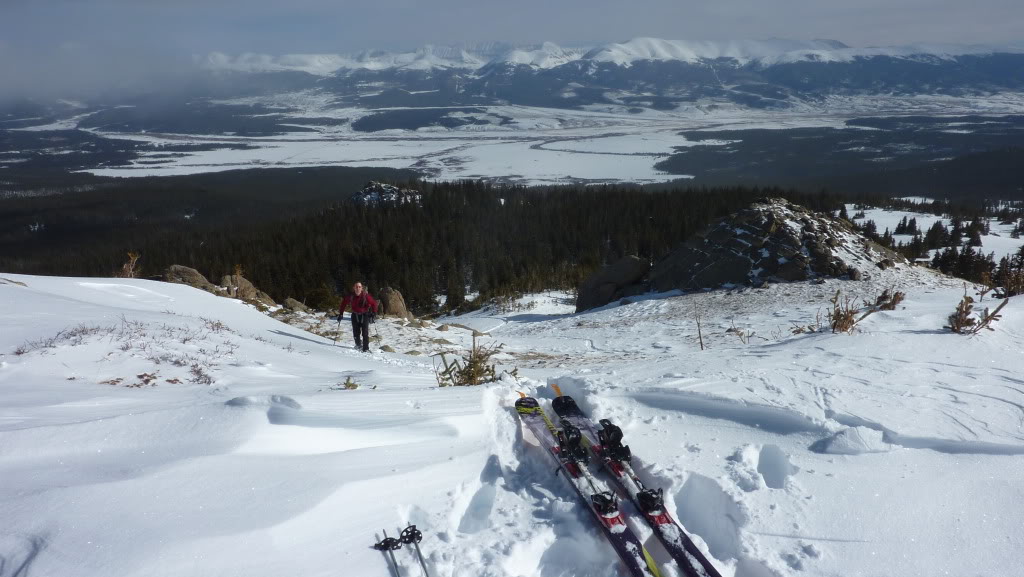 Eventually we came upon the east-facing bowl which drops south from the crest of the East Ridge. Crossing this bowl took some time. Once through the bowl, we headed through the prominent notch in the ridge in this photo:
From there we turned the corner and regained the ridge. This section was undoubtedly the crux of the route from an avalanche standpoint, turning the corner requires you to hug some rock formations with a decent sized runout below.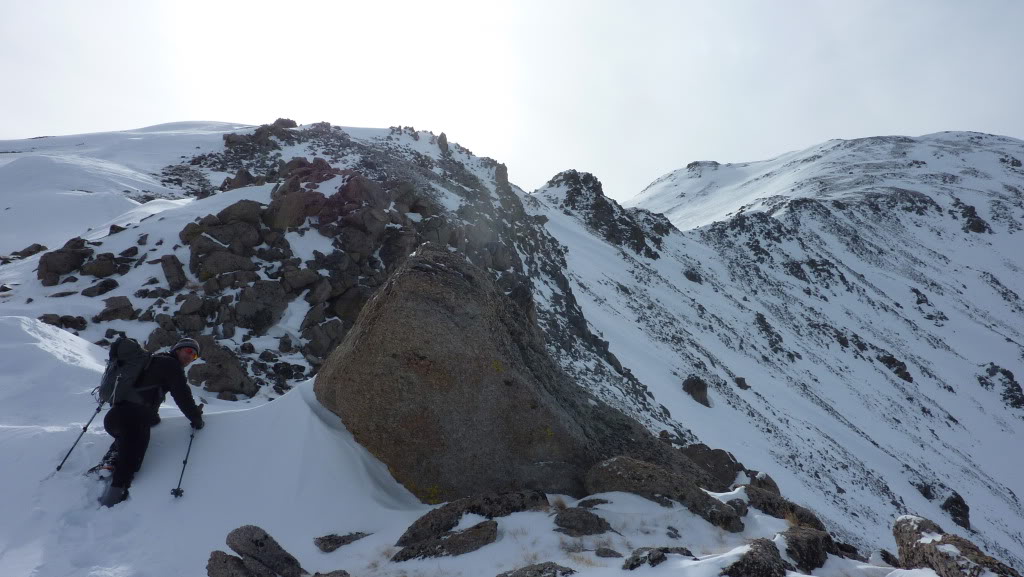 Upon turning the corner we finally spotted Steve and Eric up ahead and realized we were making slow but steady progress towards catching up with them. For a short section the ridge narrows enough to make things a bit interesting. Past this ridge section it's nothing but a good ol' thousand foot Sawatchian talus grunt to gain the summit.
About 300′ shy of the summit I was finally close enough to Steve to shout out, "Hey! Fancy seeing you two up here!". We all grouped together for a brief moment and chatted. It was cool meeting Eric's dad for the first time high up on a 14er.
We topped out at 3:30pm, ascent time of just over eight hours from the Fish Hatchery.
We didn't linger on the summit for long, but we did stay long enough to enjoy Kiefer's hot tea thermos special. It seems Kiefer always has a pleasant surprise hidden in his pack, last winter it was fried chicken on the summit of Uncompahgre. Steve started down first to get a head start while Eric, Kiefer, and I soaked in the views for a bit longer. It sure is tough to leave a summit like this on a day like this but we knew we had a long descent in front of us.
It was just about pitch black out when Kiefer and I made it back to our gear stash. I was pretty stoked to click in and cash in on 2,600′ of nighttime turns. We took a long food break back at Steve and Eric's camp and admired the views of Leadville, they were generous enough to refill our water bottles for the hike out as well, thanks guys! As Steve and Eric fired up the stove to start dinner, Kiefer and I said our goodbyes and headed out.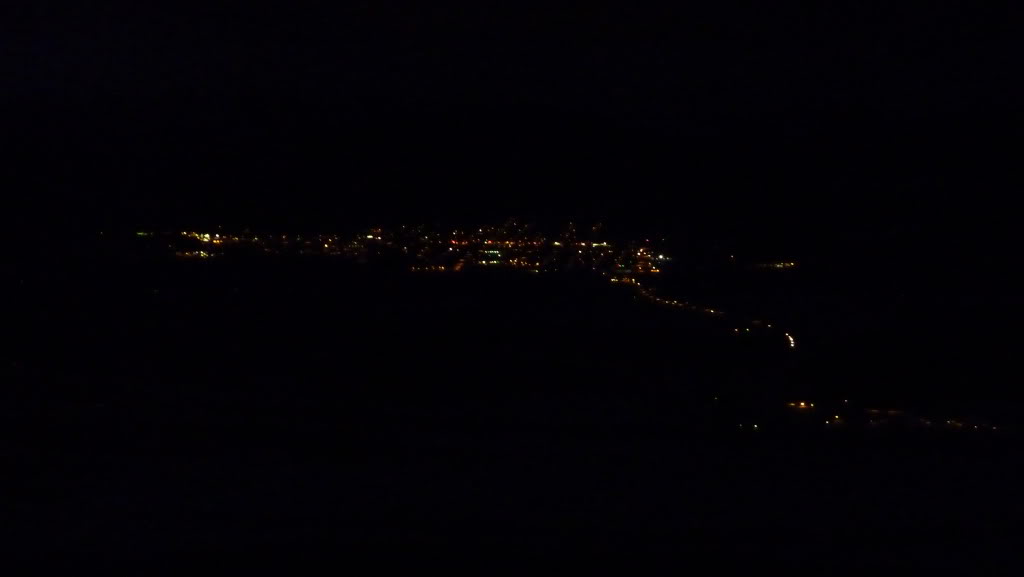 The descent to the car went swimmingly. Kiefer and I managed to reconcile the vast speed difference between skiing and snowshoeing well enough. We more or less stuck together until the final mile when I decided to ski ahead and get the car warmed up. We hit the pavement at 8:30pm for a round trip time of a little over 13 hours, not too shabby for our first winter climb of the season. All in all this is a very manageable winter route and a very rewarding summit. Thanks again Kiefer for making it happen on such short notice.
Thanks for reading and Happy New Year!