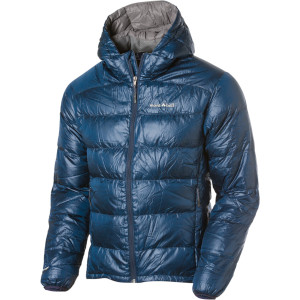 Great, versatile down jacket. Great use for Colorado, being a relatively dry state and all. I've used it for summit lounging, for days you don't plan on skiing thick trees (at it will probably rip) and for the morning walk to work whens its below freezing. If you want something even warmer, look at the Frost Smoke parka from Montbell, not gonna get much better for the price (neither will this one).
Fit: I'm 5'11 185 with a 36″ waist and somewhat broad shoulders and the Large fit me perfect. Enough room for a light fleece and shirt underneath and maybe compressible enough for a roomy shell over it.
Color: I went with the "Terra Cotta" which is a true orange, almost rust orange, darker than the pic on bc.com, but fairly similar to the pic from Montbell's website.
Material: Its advertised as a 30-denier nylon shell, which seems accurate, specially when compared to other 15-20 denier down sweaters across the board. It could probably survive a branch or two in the woods, but nothing more. Just seems like a well thought out, well constructed apparel. For ounce counters, this would be a solid piece of gear to have in a stuff sack in the bottom of your pack for emergency situations.
Price: If you look at hooded down jackets (with even less down loft) industry wide, this price at retail is an absolute steal. I'd go as far to compare this to Patagonia's Fitz Roy, Marmot's Ama Dablam or OR's Maestro for literally over 100$ less.