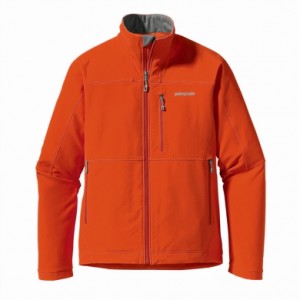 Like other reviews, this softshell doesn't have very many bells and whistles. Just a light softshell with a nice, soft lining. Very versatile, can be used in spring or summer, not quite warm enough alone in winter, but athletic fitting enough to use a layer (better off using synthetic or down sweater). Great for skinning in the backcountry or hiking peaks on a colder day in the summer. So breathable and yet slightly waterproof, seems to keep you at just the right body temp throughout the day.
Fit: advertised as "slim". I'm 5'11 185, 36″ waist and the Large fit me perfectly. Not a ton of room to layer underneath, but I couldn't ask for a better fit, perfect mix between slim and regular.
Color: I was forced to get an obnoxiously orange color, since thats all REI had in my size at the time (used my REI dividend). I really liked the neutrality of the Alpha Green, just didn't work out with my budget at the time. I've grown to get used to the Orange (clementine) and at the very least, you don't have to worry about getting shot in hunting season. Truly, a multi-functional piece of gear.
Price: great deal for the price. There is a less expensive Light Guide, but that is good for nothing more than laps at the local park in the morning, too light. If this had an Arctery'x logo on it, it'd probably run you 2 hundo, if it were North Face, like the Apex Shell they offer, it'd be less, but it'd be much heavier and not as good of an overall deal for what you get.