Its always a shame when all the inspiring, endorphin riddled thoughts that bounce around in your head while playing in the mountains seem to fade when you get back to the city and rejoin the daily grind. I sat down to write this report last night after skiing 5 hours of moguls at Mary Jane and combined with the demoralizing realization of a 40 hour work week, I completely lost interest in writing a trip report altogether. Now that its Monday and the jitters of the start of another week have seemed to subside, I'm sitting here on my new patio, ready to talk about one of my favorite lines in all of Colorado.
For the last couple weeks, my friend Ben and I have been chasing the good weather around the state, ticking off the rest of the lines on his 14er list. While I have tended to shy away from set lists and rather stuck to lesser travelled regions, I've enjoyed my time thus far this spring. I've always found it odd that Ben (Benners) and his friend (and now my friend as well) Matt (pioletski) have enjoyed unnaturally good conditions in the majority of their 14er endeavors. Amazingly enough, this good fortune has continued in to this spring ski season, with bluebird skies, unbelievable snow and life long memories on the Yawner Gullies on San Luis, Birthday Chutes on Sneffels, Cross Couloir on HC and a sunset ski of Belford in the middle of winter.
When reflecting on this weekend, I guess I could've sat around watching The Masters or took a leisurely stroll around Wash Park with ipod around the bicep, double chai non-fat latte in hand, keys to a Prius in my pocket, thinking I'm prety damn special. The weather called for some suspect forecasts, so I guess I should've sat on my thumb and rotated for 48 hours. I can think of 1 weekend out of the last 5 years where I truly regretted not listening to the 72 hour forecast and this weekend proved yet again that forecasts shouldn't dictate one's plans, ever. What ensued was another weekend out on a classic ski line in a grand setting with good, trustworthy friends.
Anyways, regarding the line. Myself, Rick (Mtnfiend) and Ben got a nice alpine start, meeting at Rick's place in Golden around 2:30am, in hopes to ski both Red Peak (13,180) and Buffalo Mountain (12,880) from the trailhead at the top of Wildernest in Silverthorne. Upon our arrival at the trailhead, we naively changed plans, thinking we'd have the motivation to grab a bite in down after Silver and hit Kelso Mountain's North Couloir on the way home. Ha. Anyways, we were all up here for the Silver anyway, so that was the primary goal. We hit the trail around 5:30am, still dark and made quick work of the approach to the base of the Silver.
At one point, Ben made the comment "I have this perception that peaks that aren't 14ers should have an easier approach and overall, require less physical exertion". Yep, he said that. (I'm giving you a hard time Benners). Whether he was being sarcastic or simply trying to antagonize me, we were staring the Silver in the face just as the sun peaked over the Continental Divide.
Just as we shouldered our skies and prepared for the boot, the Christopher Walken Colonol Ingus quotes began to fly, among many others, and they wouldn't stop for the remainder of the day. Ben took the lead on bootpacking duties initially and we'd do a pretty fair and even job of splitting them up as we climbed this beast of a couloir. While very aesthetic, it seems almost neverending, I can't imagine what Landry will be like later this Spring. The snow was incredibly forgiving from a bootpack standpoint, so leading wasn't nearly as bad on this day. Some shots of the climb….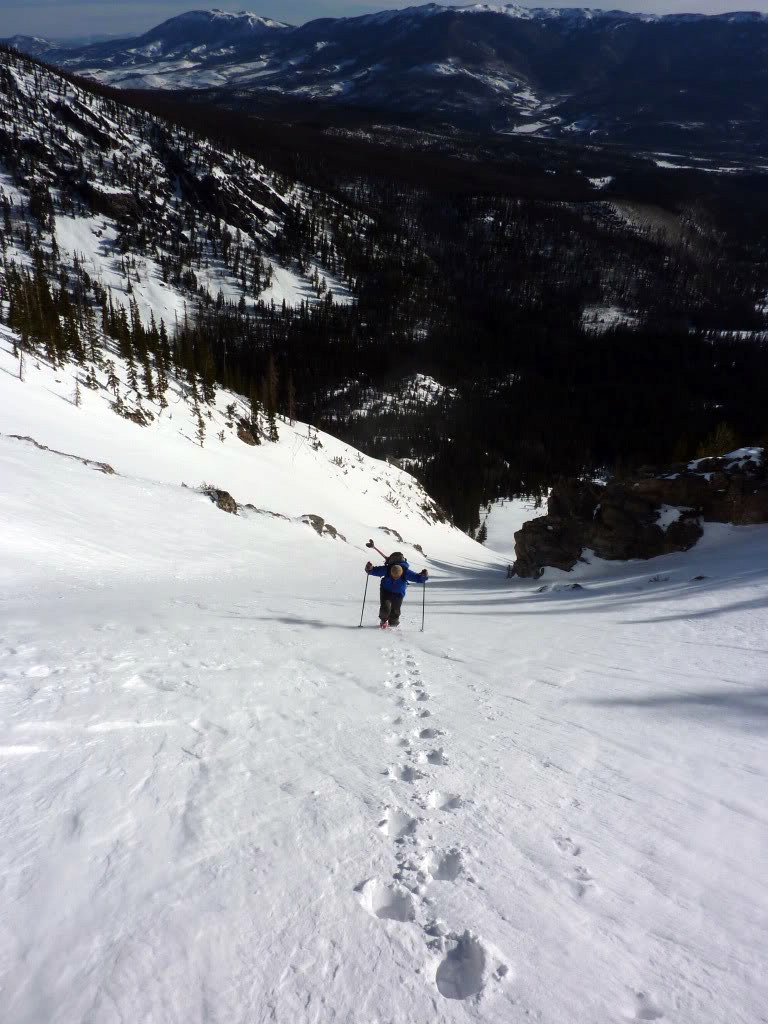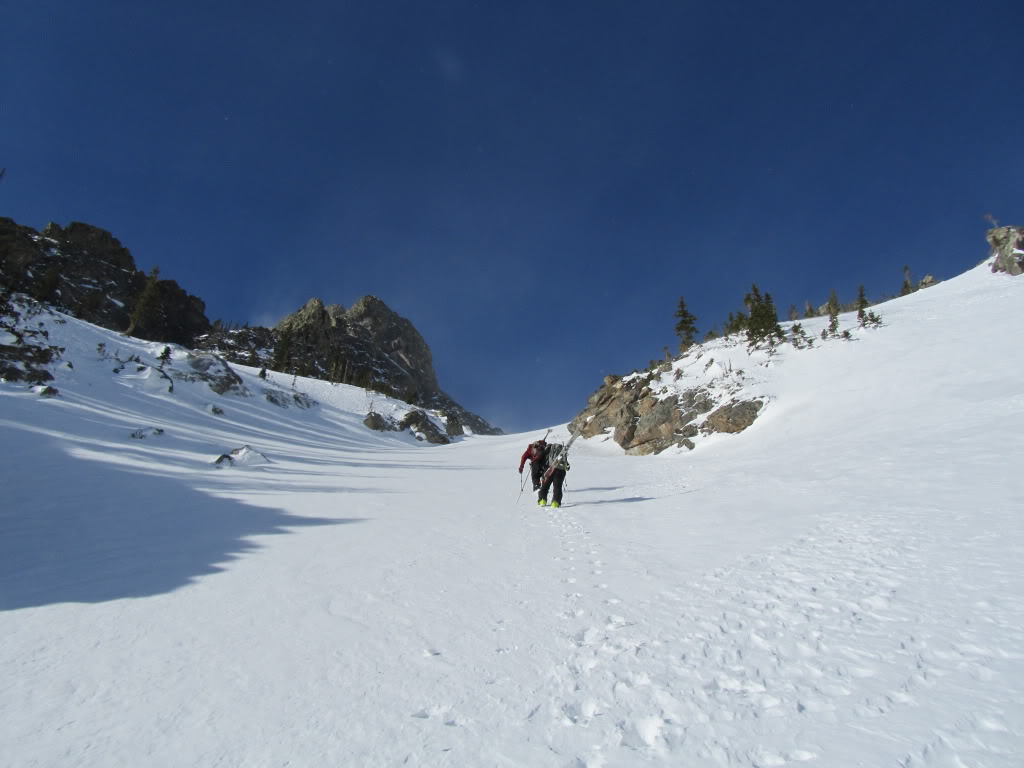 It took us approximately 2 hours and 15 minutes to climb the Silver, it was too windy to really enjoy the summit for too long, plus we were really pumped to get on our skis and down this chute. Upon our arrival on the summit ridge, we noticed a good 8-10 other people who had come up the standard 2.2 mile route and were gearing up quickly to hit this line first. This created a bottleneck, so we decided to find a spot that was semi shielded from the wind and wait till everyone skied down.
Finally, we were able to ski and it was pretty f'ing ridiculous from top to bottom. After a tiny section of a boiler plate special, we were able to enjoy the fruits of our labor.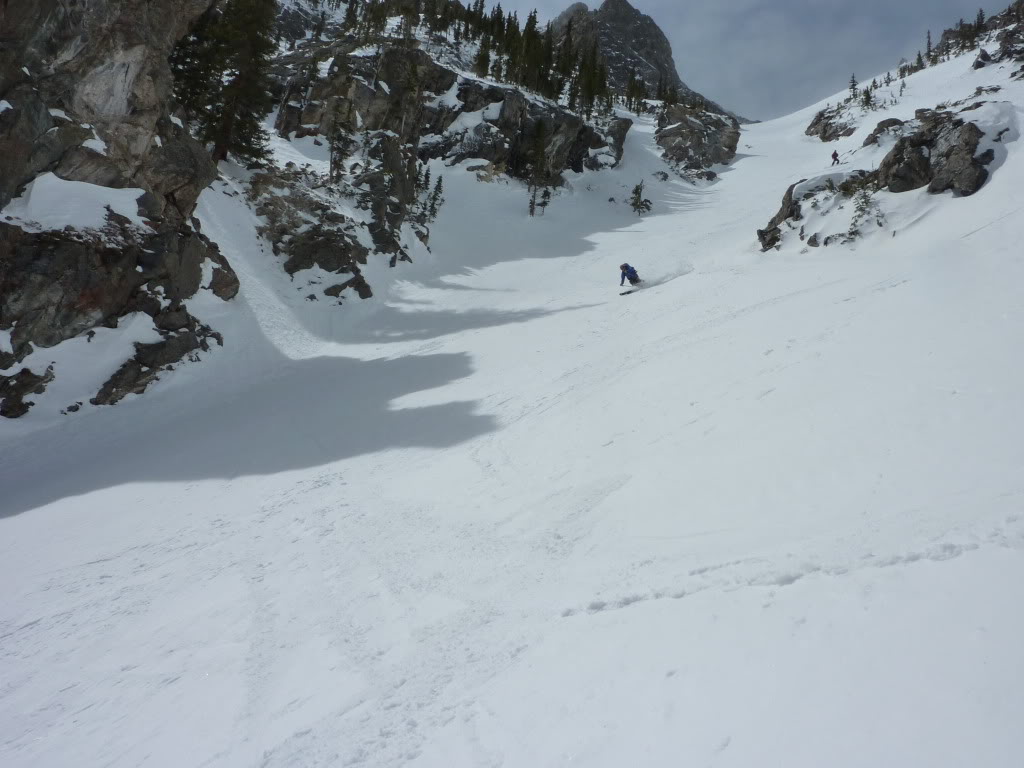 The end.