This post is part of a series from ETR on Copper Mountain's best runs. Check out other lists of top runs at Copper Mountain here. 
Groomed bliss reigns supreme at Copper
Admit it, even the most grundle-hardened, powder-chasing, park-hopping, mogul-popping, tree-ducking broville enjoys an awesome groomer. Given the right conditions, it's pretty hard to beat flying down the hill at top speed on a solid crusier. Thanks to Copper Mountain's naturally divided terrain, as well as the Super Bee lift (which might be the single greatest chairlift in all of North America) the options for fast leg burners abound. Here are our five favorite.
#5. Hodsons Cut (Formerly Cross Cut)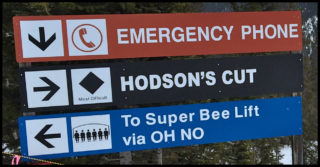 This is sort of an interesting choice for our first cruiser, because it isn't actually always groomed. However, when it is, it can provide a really long, fun descent. Hodson's Cut is the main egress for most of Spaulding Bowl, Spaulding Glades, and the steeps to looker's left of Resolution Lift. As such, Copper has made an extra effort in recent years to keep this run groomed and in good condition. You might occasionally find some chop but certainly nothing compared to the bumps and moguls on the other Resolution runs nearby.
We like Hodson's because it is such a fun exit after the challenging terrain above it. By the time you get here, you will have either just skied a bowl, a double black chute, a gladed forest, or some combination of all three. The relatively mellow angle and wide open Hodson's Cut comes as a welcome relief after all the work you just put in. From here, it's a great cruiser to just kick off the brakes and fly back down to Reso Lift. The occasional steep face and mid-run tree patches keep things interesting before a very short run out at the bottom. We wouldn't recommend seeking this run in and of itself, but as a bonus after some very challenging terrain above it, this groomer gives plenty of grins.
ETR Pro Tip: There aren't many mysteries to this one. Pick a line that looks good and fly!
#4. Jacque's Pique
The Timberline Lift is a real treat for intermediate skiers. This quick lift gives access to six of the best blue runs at Copper Mountain. Each has a pretty consistent pitch and they can really get the blood pumping as you fly back down in a matter of minutes. Our favorite is Jacque's Pique. It has a few small details which help separate it from the pack. Namely, it is a bit down the hill (enter via Soliloquy) so it sees less traffic, it is a bit tighter, and it has some great steeper sections. If you're looking to spread out a bit and just straight line something all the way down, consider Jacque's as a prime choice off of Timberline.
ETR Pro Tip: On weekends or powder days, Timberline can be a circus of cataclysmic proportions. Expect to spend as much time in line as on the lift & doing the runs themselves. We prefer to avoid this lift until the afternoons or on non busy days. Otherwise, the single's line is the only reasonable option.

#3. Hallelujah Ridge > Ptarmigan
It is pretty rare to find a sustained, manageable groomer over 12,000 feet, but that is exactly what Hallelujah Ridge is. If you have intermediate skiers in your group looking to get up into the alpine, this is your best bet.
Hallelujah Ridge starts at the Storm King lift. Do a 180 degree turn off the top and simply head back down the ridge. But not before you pause and admire the ridiculous scene from almost 12,400 feet. Across the valley you can catch incredible views of the Gores, the Ten Mile Range, the back side of Breckenridge, and even look into the Sawatch Range in the far distance. On a clear day you can see Mt. of the Holy Cross standing like a sentinel in the distant west.  And if that isn't enough, beneath your feet you will have the best vantage point on the entire mountain to admire Union Bowl, Tucker Mountain, and Copper Bowl beyond. The t-bar ride up is worth it for the views alone.
Given the alpine setting, you might expect Hallelujah Ridge to be a challenge, but on a good weather day, it is usually a perfectly groomed, mellow black run above the trees with the whole mountain at your feet. You may be tempted to sing your own praises as you make big s-turns down the face. Once you get back to the bottom of Storm King, either keep going straight into Hallelujah Bowl, or cut skier's right to link up with Ptarmigan and continue your groomed bliss. Ptarmigan is a great wide open cruiser which can be lapped on its own from Excelerator. From the bottom, you have lots of options as you will be at the top of Eagle and the bottom of the Excelerator lift.
ETR Pro Tip: Storm King can feel very intense for skiers not used to being in the alpine environment (especially if the weather is bad), but don't be fooled – Hallelujah Ridge is a relatively easy retreat back down that belies the epic setting. That said, if the wind is howling and / or it's cold, the ride up isn't worth it just to ski back down the ridge. Save this one for a good weather day. And snowboarders, please don't choose a day with 50+ people in line to finally learn how to do that t-bar.
#2. Oh No > Rosi's run
We mentioned that Super Bee might be one the best lifts in North America, and runs like this prove why. All told, Oh No to Rosi's will give you 2,300 feet of drop in just under 2 miles. Even moving fast, it will take a while to get all the way from top to bottom.
Oh No is accessed via Andy's Encore and provides a welcome respite from the crowds on Andy's. The blue run starts as a bit of a rolling trail and is a bit narrower at the top until it eventually dumps into a wide open bowl past the A-Lift runs. Look for fun natural kickers to pop some air as you zoom along the upper sections. When you reach the bowl, watch out for crowds. Skier's right is always well groomed and you can usually just point and go. From the bottom, simply keep heading straight to link up with Rosi's Run.
Rosi's is one of the best steep groomers on the planet. This is where Copper does early season super-G races, it has hosted world championships, and in the spring it hosts the USASA mogul national mogul championships. The appeal is how wide open and steep the run is. For a groomer, there is a lot to work with. Wait for the crowds to thin and then point the sticks downhill and go! If you're world class you could hit 80+ MPH, but that's probably not the best idea given all the bodies you will need to dodge.
ETR Pro Tip: Rosi's gets pretty icy as they day goes on. This is thanks to the many skiers who hit it each day. But early morning turns on Rosi's corduroy cannot be beaten. For a steep groomer, this one is a ripper's dream.
#1. Andy's Encore
Andy's Encore might be the single best cruiser in the entire country. That's a bold claim, but how many other runs have the following: 2+ miles of terrain, 2,300 vertical feet of drop, almost no run out, a healthy mix of rolling steeps and flats to keep things interesting, and sections of perfectly groomed snow which can span up to several hundred yards across. For a groomer, Andy's has everything. At the very least, it is the best blue run at Copper, hands down.
The run begins above treeline and immediately drops into two steep pitches (for a blue run) where you can really hit the afterburners. Relief comes fast as you then enjoy big turns on a much mellower section. Next up is the steepest pitch of the whole run, which you can survey from Super Bee on the trip up. This pitch challenges intermediates as you will see plenty of very tentative side-scraping happening here. It can be a little icy and the fall line pushes you to skier's right. Or you can just straight line it into an open merging of several runs below (head's up for passing skiers).
Past the big opening, veer left to arguably the best section of Andy's. The run narrows a bit (it is still huge across) and goes into a very long section of perfectly pitched blue cruiser skiing. Imagine gates along the way and you can make huge super G turns for almost a mile. Eventually you will have the choice near the bottom to head either to Center Village or East Village (via a short slot track).
ETR Pro Tip: Andy's might be Copper's most beloved run and with good reason. On a day that isn't too busy, you will almost certainly have no objections to lapping this one again and again. Andy's also makes for a perfect finisher to the day. When the legs are shot from a tough day of skiing, Andy's is always a welcome excuse to relax a bit, go fast, and really enjoy your final turns.
The Bonus Lap – Copper's Noon Groomer
Copper has a cool tradition of saving one of its front side groomers from morning turns. Every day they select one groomer (usually under Eagle or Timberline) which is kept roped off until precisely 12:00. If you plan ahead and get there on time, you can enjoy some killer midday corduroy. Which run is selected varies depending on conditions and the time of year, so check out Copper's Daily Operation's Page to figure out where to be at high noon.
Final Food for Thought: Groomers are easy to take for granted, but did you know that the majority of Colorado ski and snowboard deaths (54%) happen on blue groomed trails? 80% of those are skiers. 80% are men. The majority were wearing helmets. Most simply catch an edge and/or ski out of control into a tree. Does that sound like it could be you? Ski safe.
Other Articles From Exploring the Rockies' Guide to Copper Mountain
Disclaimer: ETR's Guide to Copper Mountain is an entirely subjective, unofficial guide to the mountain and is not officially associated with Copper in any way. All of the insights here are simply our opinions based on many runs down the hill. It goes without saying, but follow all resort rules, evaluate conditions as you go, and ski at your own risk.