With unseasonably high temps and instability lurking in the snow pack statewide, there was some natural hesitation among our group about driving all the way to Lake City for an attempt on Wetterhorn. Upon seeing the overnight freeze was forecast to be around 32 degrees, we decided to give it a shot at the last minute.
Partners for this trip ended up being Wes, with whom I have skied several peaks over the years, as well as David and Tyler, who would be taking on Wetterhorn on snowshoes. We camped near the Matterhorn Creek TH and got a 4am start, entering the basin below Matterhorn Peak at treeline roughly two hours later. Signs of instability varied greatly depending on the aspect, with east-facing slopes generally being the largest concern.  West-facing slopes were much more solid, having not received consecutive days of direct sun in the absence of overnight freezes.
A fun climb of the Southeast Ridge had us on the summit around 11am, much too late for Wes and I to consider a ski of the classic East Face, but on such a great day with such great partners, I don't think either of us minded much. We ended up improvising, skiing the Southwest Face instead which actually made for a unique and somewhat rare adventure.
Starting from the standard ski high point, rather than dropping skier's left we dropped skier's right and headed on down a series of snow couloirs. From the bottom, we were able to contour around the base of the Southeast Ridge with ease. On many snow years I'm not sure the line we skied goes cleanly. I was able to document the upper 1,000′ of the ski descent with the helmet cam, which you'll find at the end of this TR. First, a few photos from the day…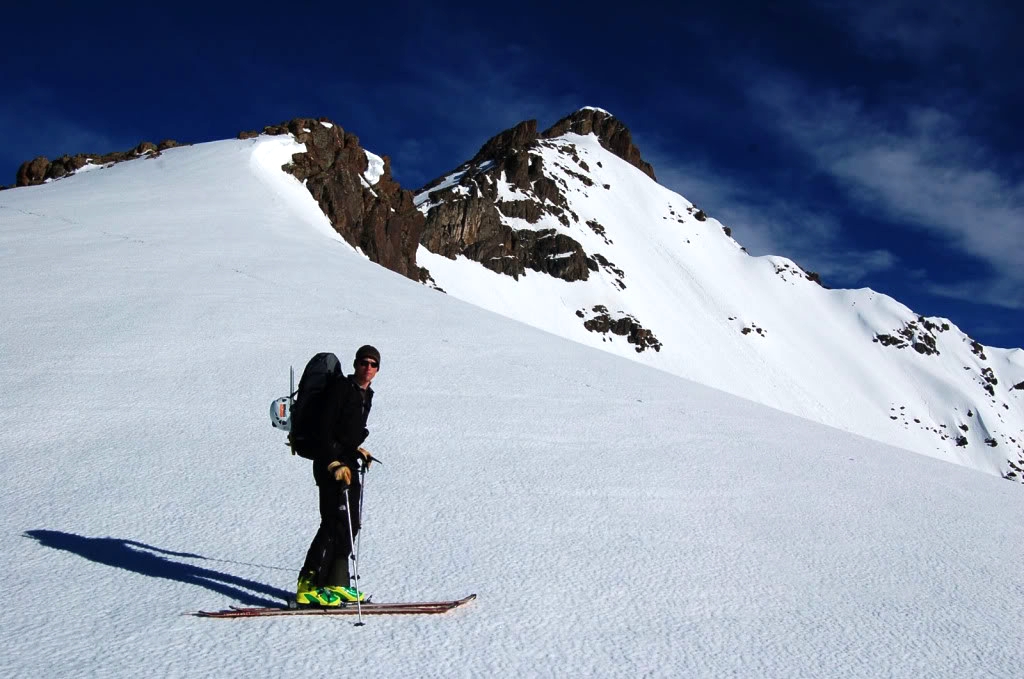 …and lastly, POV footage of the upper 1,000′ of the descent: